Everyone's feeling the unrelenting stress of work in The Resident's "He'd Really Like to Put in a Central Line" airing Tuesday, Nov. 30.
Read on for some exclusive scoop on tonight's action.
Can you do us a favor? If you enjoy our weekly Resident scoop and want to share, can we ask that you don't screenshot as a means of sharing? A simple link share over Twitter means the world to us, and prevents the accidental spread of spoilers that appear in photo form. Thank you!
A Hero Moment
The title of tonight's episode refers to Trevor, who is still searching for a hero moment this week, and fantasises about being tasked with administering a central line to a prospective patient with his peers. However the young intern will find himself tested in ways he didn't expect when faced with a difficult patient's beliefs.
Will Trevor be able to dig deep and tap into the kind of quiet heroism that's doesn't come "spattered all over his white coat?" (Conrad's words), or will his sense of superiority prompt him to decide what's best for his patient fate instead?
Honestly it could go either way.
Take a Load Off
Did we mention how tired everyone is this week? Because the docs are really feeling their exhaustion on a whole new level, and the hospital is crying out for a new ER doc now that Devon is officially reducing his ER hours, and working on his clinical trials grant proposal. The only problem is all of the new candidates seem just as burned out as the existing docs.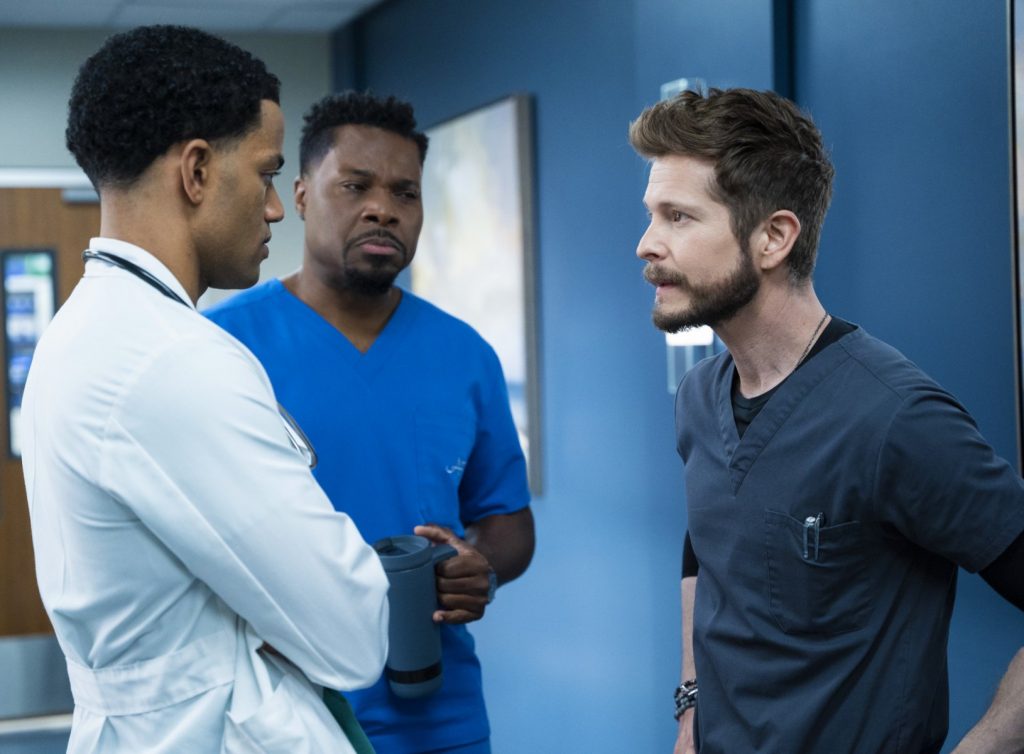 10% Happier
Padma is convinced she can make Dr Voss at least 10% happier if she agrees to meditate with her. Note: She might just have to wrestle her pager from her first.
Losing His Edge?
While Trevor is convinced that Dr Hawkins must be losing his maverick edge this week, Dr. Bell is pretty sure he is losing his own edge when his mysterious symptoms place a patient's life in potential danger.
Are we seeing a return to Dr. Bell's old ways? Let's hope not.
A Tale of Two Patients
While our favorite docs and their work-life balance takes center stage, tonight's episode is really a compare and contrast of two patients: one who refuses to place any trust in his doctors, and another who places too much trust in hers. Neither of their behaviors are doing their respective carers any favors, as we will see.
The "He'd Really Like to Put in a Central Line" episode of The Resident airs Tuesday, Nov. 30 (8:00-9:00 PM ET/PT) on FOX.
Follow @TVPulse Magazine for more exclusive scoop from The Resident this season.