Last night's episode of The Resident finally paid respects to Emily VanCamp's Nicolette Nevin in a teary bittersweet hour that saw Conrad transformed into a widower and single Dad following the events of a fatal car crash.
Although VanCamp had announced her departure from the upcoming fifth season back in August, her presence was felt in episodes one and two of season 5, as the show worked behind the scenes to prepare for her character's exit. Over the first two episodes, as the show dealt with a ransomware attack and an almost fatal gas leak, Nic and husband Conrad exchanged a series of happy phone calls and texts from Nic's spa weekend locale. However the illusion Nic was actually going to make it home alive was finally dispelled when in the final moments of last week's "No good Deed" Conrad opened the door to see uniformed cops bearing bad news.
"The Long and Winding Road" sees Conrad spring into action, racing the paramedics to the hospital — and almost becoming involved a car collision of his own in his haste to arrive on time to treat Nic.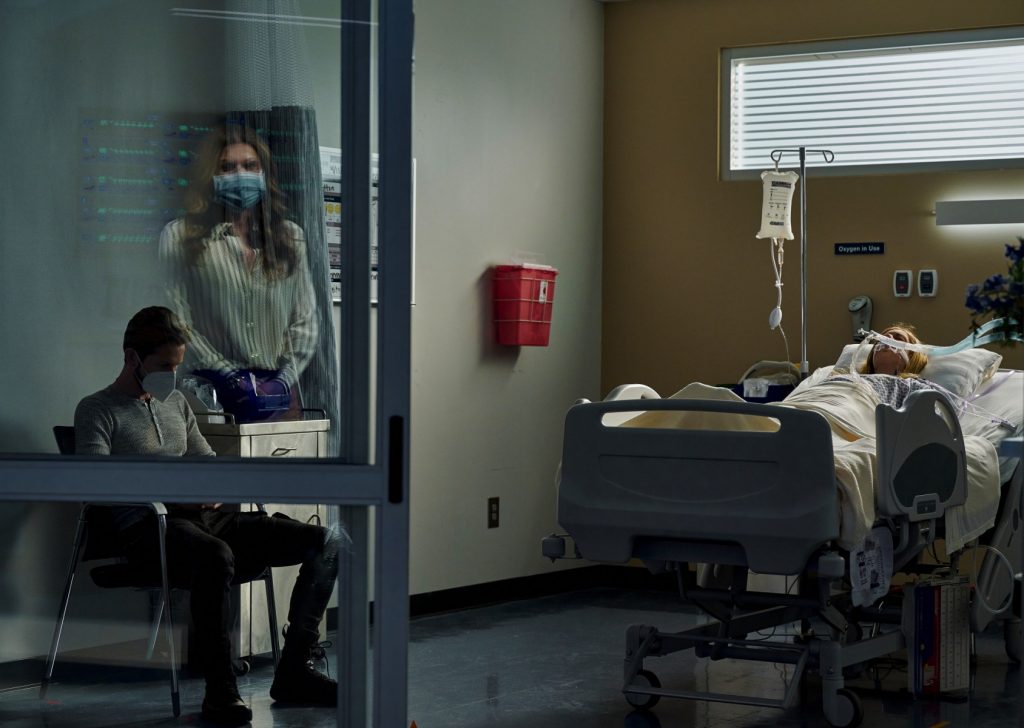 Nic has been delivered straight to Chastain by chopper from the site of a catastrophic car crash, and Conrad is first on the rooftop, almost running headlong into the chopper's rotors in his crazy dash to be by his wife's side. However his rising sense of panic prompts the astute paramedic to remind him to remember his combat training in moments such as these.
"Watch the monitors, not the patient."
The problem is, the monitors are telling a truth no one but Devon seems to want to acknowledge. Nic has creeping catastrophic brain damage that surgery and meds will not cure. Conrad is hellbent on directing Nic's medical care, and no one seems to know how to get him to step aside.
While Nic is taken for a CT scan, Devon struggles out of his hospital bed to be there for his friend, despite just about everyone's objections. However, Devon will not be dissuaded. Conrad was there for him last week, and in return he is determined to be there for his friend in his ultimate hour of need. However in doing so, Devon later finds himself in the deeply uncomfortable position of being the one chosen to carry out Nic's brain death test when neither Conrad nor Billie can bring themselves to perform the heartbreaking task.
As the day wears on, and Nic becomes more and more unresponsive, and Conrad begins to run out of options, Billie argues that Nic should be placed in an induced coma. When Conrad argues, she is forced to pull rank, advising Conrad that she is speaking to him as the husband of her patient, and not a friend and colleague. Conrad relents. Family arrives, including Nic's Dad Kyle, who is delusional in his belief his daughter will wake up at any moment. She does not.
In an hour of TV packed with such high drama, it seems almost improbable to think The Resident would even consider a B storyline this week. However, a sub plot involving the return of Covid patient Gabe Sandoville and his wife Cherry neatly dovetails with Nic's storyline, and offers several tender callbacks to Nic's earlier care and consideration of Gabe during his stay at Chastain.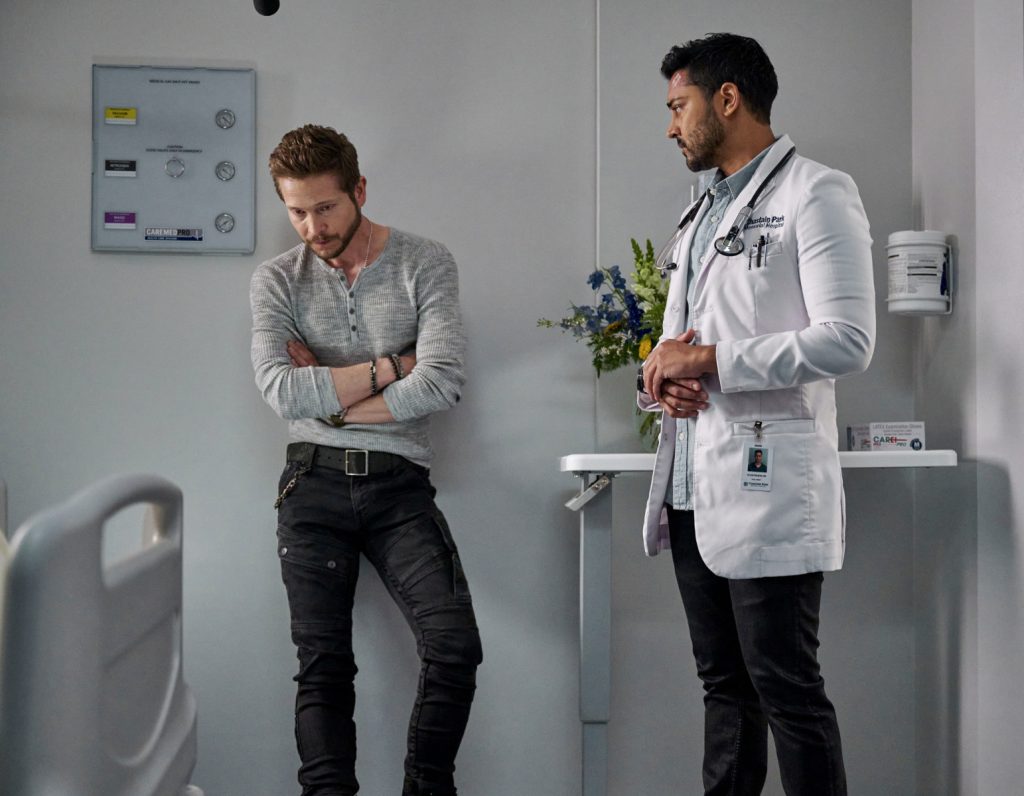 Gabe's return to hospital is necessitated by breathing problems. Covid-related intubation has caused trauma to his trachea, and Gabe learns he will not be able to breathe unassisted from now on. The idea of being hooked to noisy breathing apparatus for the rest of his life, with Cherry forced to care for him, is more than Gabe can bear, and he argues with the docs to be allowed to die naturally.
Gabe's storyline, along with Cherry's gentle moments spent consoling Conrad offer a neat "compare and contrast" to the hour's main events. One one room machines are keeping Nic's heart and lungs going, as hope slowly dwindles, while in the other, a man fights for his right to end his life on his own terms.
In the end, the solution is straightforward, and even a little shocking, but what we should expect from The Resident if we've been paying attention over the years. Devon declares Nic brain dead, and Conrad brings Gigi in to say goodbye to Mommy. Then despite Kyle's angry outburst that Conrad hasn't done enough to save his wife's life, Conrad reminds everyone of Nic's last wishes — to be taken off life support, and for her organs to be donated. It looks like Gabe is a perfect candidate for a new trachea, courtesy of the nurse who once cared for him.
Oh wow.
The hour ends in a bittersweet hero's exit for Nic. Docs and nurses flank the hallways as Nic's body is wheeled away for organ donation. We hear she will save up to 8 lives with her generous gesture.
As we pass familiar faces, we get a collection of flashbacks from Nic's best moments with several key characters, settling on scenes from her wedding day in the final moments. In a final gesture, a heartbroken Conrad gently removes her wedding ring before Nicolette Nevin leaves Chastain forever.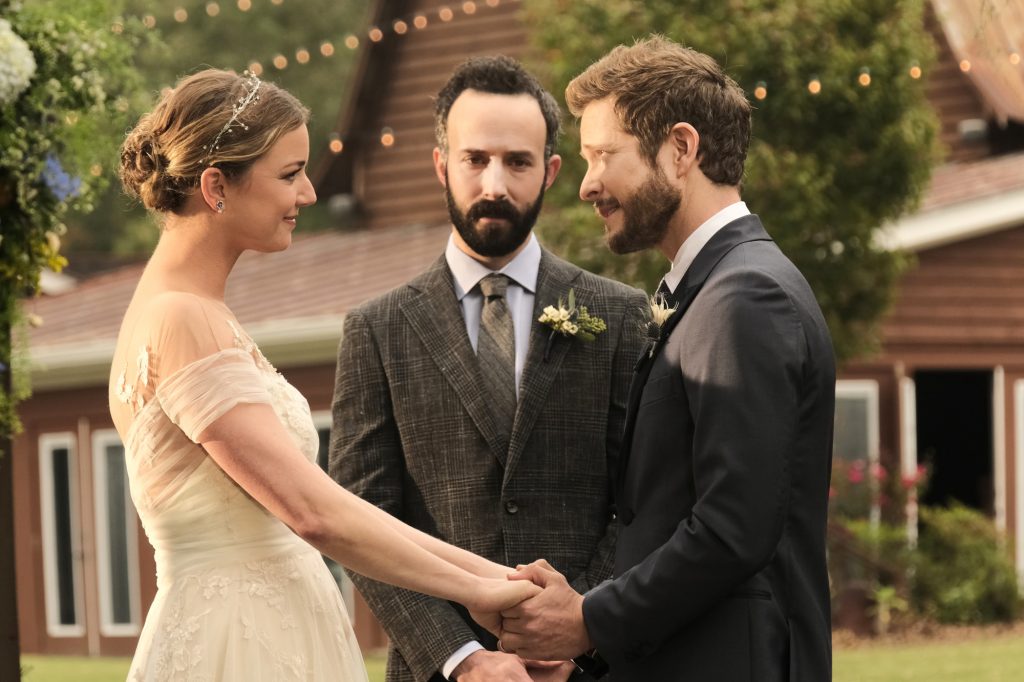 Speaking to Deadline following the airing of last night's episode Emily VanCamp commented "I spent so many years on network television, but then suddenly priorities shifted. I think there comes a moment in every woman's life — in every person's life — where it becomes less about work and more about family, and that's what happened while I was making the show. Doing that many episodes in a different city and then you add COVID to that, most of us couldn't see our families for almost a year. It really solidified for me that family is where my heart is at the moment.
VanCamp added, "It's such a bittersweet moment for me. I loved doing The Resident so much for the four years I was on it. Oftentimes you hear about someone exiting a show because something bad had happened or there was some bad blood. But in this case, it's the exact opposite. There's nothing but love and respect between all of us and this decision was not an easy one for anybody. But it was the right one for me, personally. I'm grateful that I was met with understanding and compassion."
Follow @TVPulse Magazine for more scoop from The Resident.