We've spent the last nine weeks watching Wanda Maximoff process her trauma in WandaVision, but now that it's all over, what are we supposed to do? Process our own trauma? I don't think so!
Here are 3 superhero shows like WandaVision you may like to invest some time in, if complicated superheroes with tons of baggage, facing insurmountable odds are your thing.
Because what is grief if not a fandom persevering?
DOOM PATROL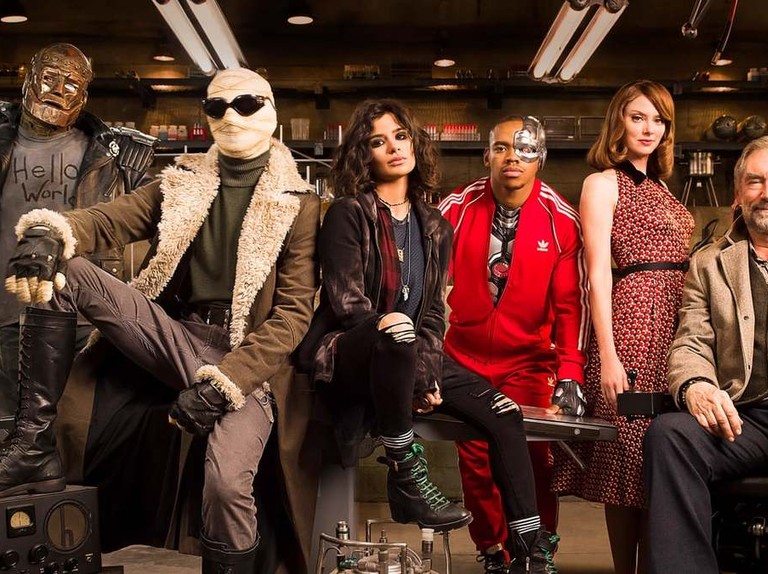 Originally airing exclusively on the DC Universe streaming service, but now with the first two seasons available HBO Max (and a third on the way), Doom Patrol tells the story of the coming together of the unlikeliest of individuals across time and space (in this case 'space' being mostly North America) to form a team of reluctant 'misfit' heroes under the tutelage and direction of Niles Caulder (Timothy Dalton), a medical doctor responsible for discovering and treating his physically and emotionally damaged proteges, and allowing them to live together in his sprawling mansion.
Caulder's team include the glamorous but faded Hollywood star Rita Farr (April Bowlby), who became a compulsive-eating recluse after an accident with toxic gas causes her body to turn into a gelatinous goop at all the wrong moments.
Rita's best friend in the mansion is the tormented Larry Trainor (Matt Bomer), a former United States Air Force pilot plagued both by a negative energy entity living inside of him, and his feelings for John Bowers, the secret love of his life.
The pair live alongside the mansion's noisier members, including Jane (Diane Guerrero), a young woman with 64 different (and often hostile) super personalities that come and go with Jane's emotions. We learn that Jane's identities spring from deep childhood trauma, and first emerged following an experiment she was involuntarily subjected to.
At times, when Jane is the dominant personality, she confides in Cliff (Brendan Fraser), a former NASCAR driver whose brain was transplanted into a robot body after a car crash destroyed his own. When not attempting to help Jane, Cliff is trying to find a way to connect with his now grown daughter who assumes he is long dead.
The team finds its newest member in Cyborg (Joivan Wade), an established by-the-book young superhero who received cybernetic enhancements after an accident that led to his mother's death.
Sometimes hilarious, often poignant, and always utterly unpredictable, Doom Patrol seems at times to follow a fling paint at the canvas and see what sticks format. However, while weekly events see the team bombastically facing off against the unlikeliest of villains ever to grace a TV screen, the show and its characters find their feet in quieter moments of human drama and interconnectedness in which themes of gender and sexuality, grief, guilt, love, and forgiveness are all painted with more tender brushstrokes.
THE UMBRELLA ACADEMY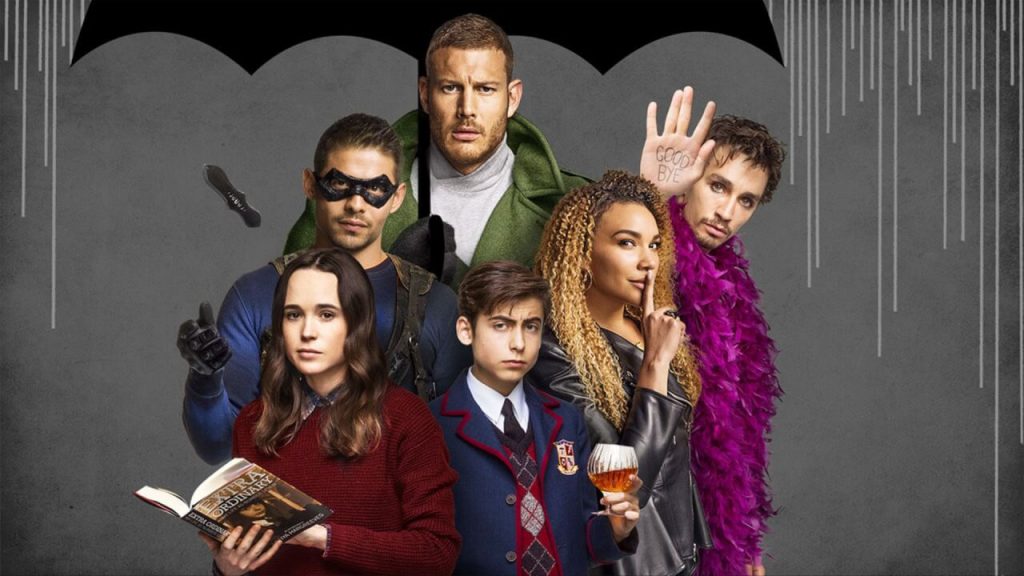 The Umbrella Academy (seasons 1 and 2 available on Netflix now, season 3 on the way) is another series in which a motley collection of emotionally scarred supers take refuge in a sprawling mansion between super bouts with an external enemy — most often, an impending apocalypse.
Definitely the lightest of our three offerings, Umbrella Academy is also the funnest, and features a fantastic soundtrack of 80's classics you will want to check out, if you are into that sort of thing. (Seriously, who isn't into that sort of thing?)
The series follows the Hargreeves family — 7 adoptees (Luthor, Diego, Alison, Claus, Ben, Number 5, and Vanya) with superpowers including super strength, mind control, telekinesis, the ability to jump through time and space, and to commune with the dead, their robot mother, their cold and emotionally distant father and their genetically enhanced chimpanzee butler. You know, the usual.
While the Hargreeves are unrelated to each other, except through the circumstances of their 'adoption' for the specific purpose of crafting the perfect superhero team by Hargreeves snr., the show navigates the complex back and forth of real sibling family life (anyone who comes from a large family will totally relate), and explores themes of grief, family bonds, parental favorites, addiction, love, loss and sacrifice all with humor and tenderness. If you've ever lost a parent, or struggle to recognize your place in a family unit, this one is for you.
The Umbrella Academy stars Tom Hopper as Luthor, David Castañeda as Diego, Emmy Raver-Lampman as Allison, Robert Sheehan as Klaus, Justin H. Min as Ben, Aidan Gallagher as Five, and Elliott Page as Vanya.
THE BOYS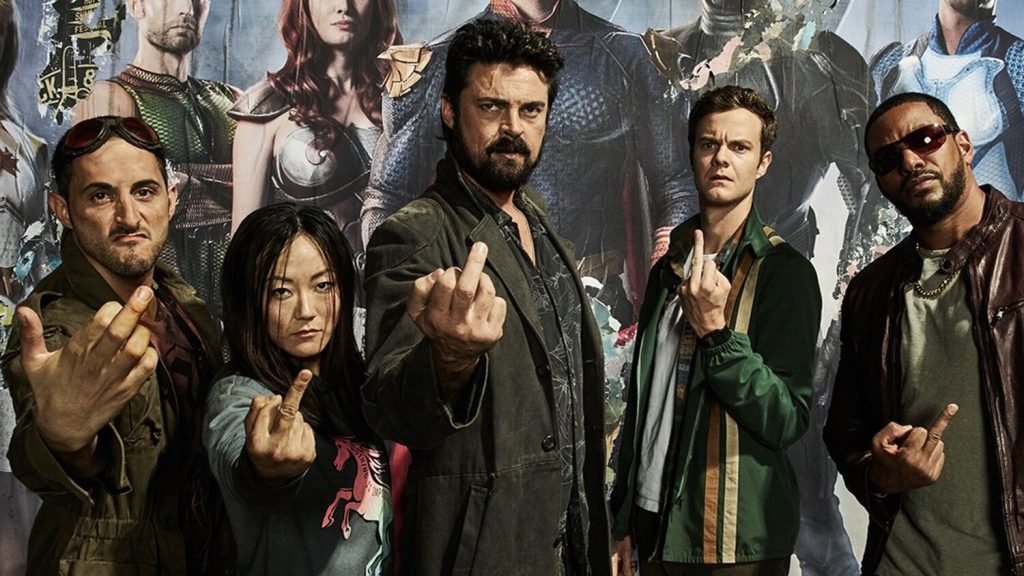 The Boys (seasons 1 & 2 on Amazon Prime Video, Season 3 in production as I type) is the brashest, and most violent of our trio of picks, but totally deserves its spot for skilfully adding a dollop of realism to the cocktail of carnage and satire served up in each episode.
At the centre of the action is a collection of emotionally scarred humans who have lost the people closest to them at the hands of The Seven, a team of beloved superheroes one might expect to see in a Marvel movie. What the public doesn't know is that these Supes are every bit as flawed as the rest of us — some even more so — with their powers and fame often proving to be a heady and sometimes fatal mix. Fatal for us, that is. Them? Not so much.
When Hughie's (Jack Quaid) girlfriend is accidentally killed by superhero A-Train, and the killing subsequently covered up, he falls in with Billy Butcher (Karl Urban), the rough around the edges … and also rough around the inside leader of The Boys. Butcher, a former SAS operator, is on a personal quest to kill all individuals with superpowers.
A grief stricken Hughie reluctantly joins Boys members Frenchie (Tomer Capon), Mother's Milk (Laz Alonso), and Kimiko (Karen Fukuhara) as they set out to take down The Seven, led by the sadistic and deeply narcissistic Homelander (Antony Starr) any way they can.
However Hughie soon discovers that not everything is black and white, and not every member of The Seven is inherently self-serving. Some, feeling deeply trapped behind their public personas, and terrified of the unpredictable Homelander, offer to help in unexpected ways, pulling Hughie deeper into danger, and putting him at odds with his new Supe-hating friends.
The Boys could have offered a fun and gory comic-book romp through a blood-spattered landscape, gleefully inverting all our superhero expectations along the way. (Actually… it does do that. In spades.) However, the show also cleverly and subtly uses its platform to shine a spotlight on sexual and physical abuse, women's rights, far right politics, cancel culture, how media highjacks and misrepresents the very notion of female empowerment, and a host of other current issues one might not expect to find in a superhero show. The Boys is so much more than a revenge tale for boys.
Warning for language, gore and well, you know how it's going to go:
Follow @TVPulseMag for more on these and other really great TV shows this season.