SCOLA IS REMINDED OF HIS BROTHER'S DEATH
The team attempts to extract key information from a vulnerable 9/11 widow, Hannah Thompson (Janel Moloney), who is shocked that her new "boyfriend" is the manipulative leader of a terrorist group planning an attack.
Also, Scola is reminded of his brother's death on 9/11, and Tiffany worries about his emotional choices during the investigation.
FBI stars Missy Peregrym (Special Agent Maggie Bell) Zeeko Zaki (Special Agent Omar Adom 'OA' Zidan) Jeremy Sisto (Assistant Special Agent in Charge Jubal Valentine) Alana De La Garza (Special Agent in Charge Isobel Castille) John Boyd (Special Agent Stuart Scola) Katherine Renee Turner (Special Agent Tiffany Wallace) RECURRING CAST: Kathleen Munroe (Rina Trenholm) Taylor Anthony Miller (Kelly Moran) Vedette Lim (Elise Taylor).
Guest cast in "Fire and Rain" incudes Janel Moloney (Hannah Thompson) Diogo Martins (Felix Ramos) Ramon Fernandez (Carlos Velez) Brian Lucas (Pablo) Christian A. Guerrero (Ernesto) Liam James Daniels (Elliot Young) Lydiana Medellin (Detective Maria Valdez) Danny Hilt (Bomb Tech Hill) Joey Parsons (Audrey Scola) Sohina Sidhu (Naya Aswani) Brandon Castillo (NYPD Uniform) Erika Myers (NYPD Captain) and Abigail Sanchez (Female Hostage).
The episode was written by Rick Eid, and directed by Sharat Raju.
"Fire and Rain" airs Tuesday, Dec. 7 (8:00-9:00 PM, ET/PT) on the CBS Television Network.
FBI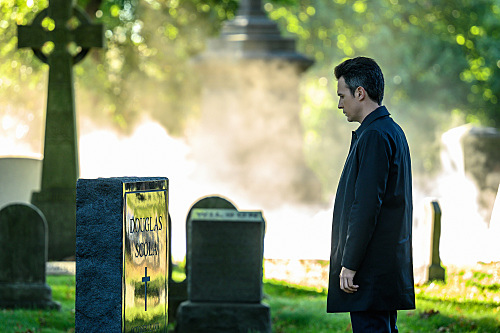 Picture 1 of 29
"Fire and Rain" – The team attempts to extract key information from a vulnerable 9/11 widow, Hannah Thompson (Janel Moloney), who is shocked that her new "boyfriend" is the manipulative leader of a terrorist group planning an attack. Also, Scola is reminded of his brother's death on 9/11, and Tiffany worries about his emotional choices during the investigation, on the CBS Original series FBI, Tuesday, Dec. 7 (8:00-9:00 PM, ET/PT) on the CBS Television Network, and available to stream live and on demand on Paramount+*.Pictured John Boyd as Special Agent Stuart Scola Photo: David M. Russell/CBS ©2021 CBS Broadcasting, Inc. All Rights Reserved