December on Disney+ sees Willow (which debuted on November 30) continue to enchant with new episodes weekly.
Meanwhile, scifi adventure series National Treasure: Edge of History premieres with 2 back to back episodes (with new episodes bowing weekly thereafter) on Dec. 14.
Read on for a fuller look at Disney's new series offerings this month.
Follow @TVPulse Magazine for more TV scoop.
WILLOW
An epic period fantasy series with a modern sensibility set in an enchanted land of breathtaking beauty, "Willow" features a diverse international cast with Jonathan Kasdan, Ron Howard, Wendy Mericle, Kathleen Kennedy, and Michelle Rejwan serving as executive producers.
The story began with an aspiring magician from a Nelwyn village and an infant girl destined to unite the realms, who together helped destroy an evil queen and banish the forces of darkness.
Now, in a magical world where brownies, sorcerers, trolls, and other mystical creatures flourish, the adventure continues, as an unlikely group of heroes set off on a dangerous quest to places far beyond their home, where they must face their inner demons and come together to save their world.
"Willow" features Warwick Davis returning in his titular role, with Jonathan Kasdan, Ron Howard, Wendy Mericle, Kathleen Kennedy, and Michelle Rejwan serving as executive producers.
Available From: November 30, 2022.
DIARY OF A WIMPY KID: RODERICK RULES
The riotous antics of angst-ridden, disaster prone, middle school student Greg Heffley continue, focusing this time around on his complicated relationship with older brother Rodrick.
Now, Greg takes on one of his biggest challenges yet – surviving a weekend alone with Rodrick and abiding by his growing list of rules.
Available From: December 2, 2022.
NATIONAL TREASURE: EDGE OF HISTORY
2 EPISODE PREMIERE
Episode 1: "I'm a Ghost"
22-year-old Jess Valenzuela's life is turned upside down when she meets a mysterious stranger who holds a clue to an ancient treasure linked to her long- dead father.
With the help of her friend Tasha, Jess uses her knack for puzzle-solving to try and crack the clue. But they both soon realize they're in way over their heads when Billie—a ruthless black-market antiquities dealer—joins the hunt.
Episode 2 "The Treasure Map"
With their friend kidnapped by a rival treasure hunter, Jess and her best friend, Tasha, hatch an elaborate plan to get him back, leading to a ransom exchange on a WWII warship, where Jess realizes this treasure hunt is too dangerous to continue. But will all that change when Liam Sadusky lets her in on one of his own family secrets?
Available From: December 14, 2022.
LE PUPILLE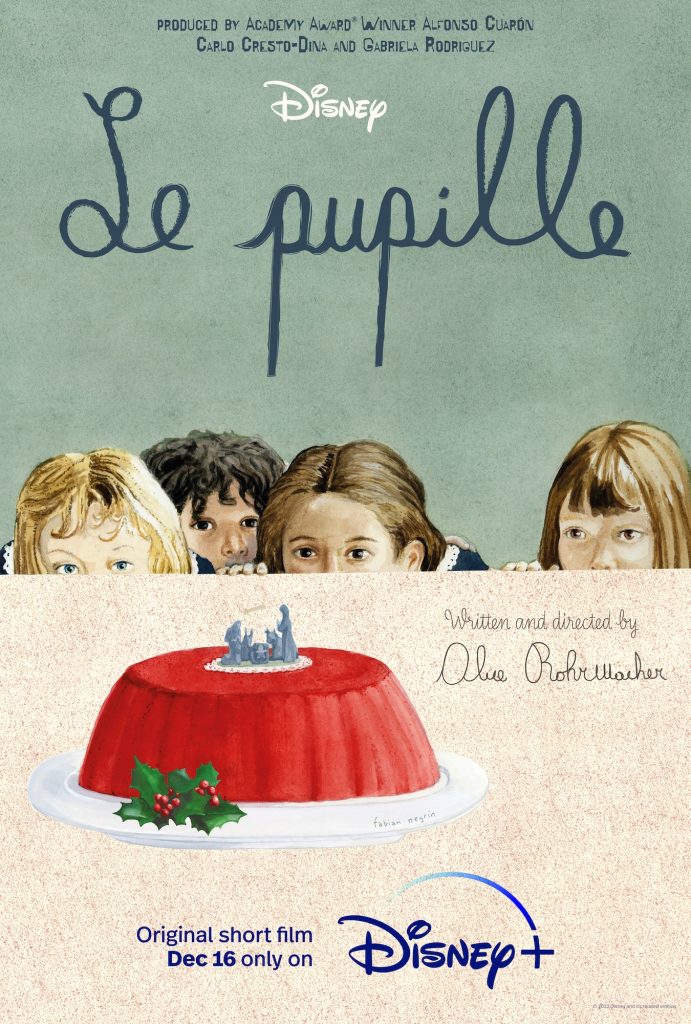 From writer and director, Alice Rohrwacher, and Academy Award®-winning producer, Alfonso Cuarón, "Le Pupille" is a tale of innocence, greed and fantasy.
This live action short is about desires, pure and selfish, about freedom and devotion, and about the anarchy that is capable of flowering in the minds of girls within the confines of a strict religious boarding school at Christmas.
Available From: December 16, 2022.