When I first previewed The Blacklist's pilot episode almost ten years ago, I was so tickled by NBC's new flagship crime drama I dubbed it 'The jewel in the crown of NBC's primetime schedule.'
NBC was so tickled by what I wrote they included my quote in their online advertising for several weeks.
It was the beginning of a beautiful love affair.
Over the years the show was, at times, my favorite hour of TV in the week. James Spader brought weight, gravitas, and on occasion unexpected levity to a character who, on paper, was not the most likable of villains. Megan Boone's Liz Keen was the earnest, heart-wrenched personification of our collective search for answers to the show's layered mysteries.
Those answers were all just around the corner for those of us who were willing to stick with the show and pay attention to the details. Or maybe they weren't. As seasons came and went, skirting around, but never truly embracing the core hook of the show (who and what is Red to Liz?) I had to concede that maybe The Blacklist was, like many other long-running series, simply trying to stay afloat and stay renewed amid a flurry of cast departures, renewal negotiations, license fee hikes, exhausted ideas, and storylines that failed to materialize the insights I had once felt sure were coming. Maybe there was no grand reveal. No cunning insight. No masterplan. Like being caught up in a tedious debate, I had long forgotten what the original question was and why it mattered.
When news of The Blacklist's cancelation came a couple of weeks ago, I felt a sense of relief. Season 9 and Liz Keen's death may have put paid to the idea we might ever know what was going on with Red and the reasons behind his explosive presence in her life, but at least we would get to see Red go out in a blaze of glory. Or see him slip away quietly like a thief in the night. Or clink a glass of scotch with Dembe as his private jet goes wheels up just before the closing credits. Who knows how the series will actually end?
For all our frustration though we finally have one solid fact we can depend on. This is the final season of one of the most buzz-worthy, exasperating, enjoyable, heartbreaking, and enduring shows of the last decade.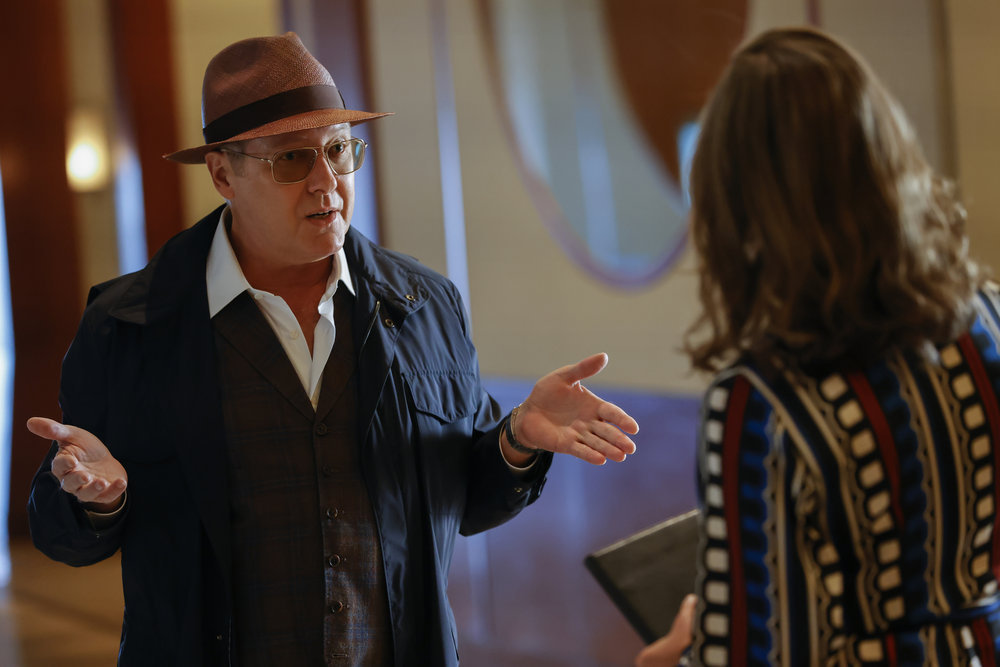 In advance of the final season premiere, titled "The Night Owl," NBC has thrown a couple of episodes for review our way. If you've read any of my preview articles here on TVPulse Magazine, or at ScreenSpy, or on ChevronOne if we go way back, you'll know not to expect any major spoilers in the content below. (We avoid revealing anything that may constitute a plot or character development because we don't want to ruin anyone's enjoyment — or hate-watch — of the live episode.) If you would rather remain blissfully ignorant of the premiere, now would be a good time to stop reading. If you would like to know a little more, in broad terms, about what to expect of the season going forward, then read on.
Life After Reddington
The Blacklist's Season 10 premiere takes a beat to check in with its remaining core characters. We see that 6 months have passed since Red's departure and the dissolution of the Task Force following Aram and Alina's departures.
Donald is still grieving the loss of Liz, but is making strides with his sobriety.
Dembe is up to his armpits in an FBI paperwork trail pertaining to Marvin Gerard's far-reaching activities, and Harold is happy at home, aging gracefully and spending quality time with Agnes.
It would take something pretty explosive to bring this gang back together. Again.
Announcing His Arrival
Fans may get a little kick out of seeing the departed Amir Arison in the opening scene of the premiere episode given that the actor has departed the show.
Aram is happily going about his new low-key life on the streets of Manhattan when he spots something that shouldn't be there. And that something is Raymond Reddington. In New York. That's weird, thinks Aram. If Red was back in town, wouldn't he announce his arrival? It looks like Aram won't have to wait too long for that announcement though.
Aram is not the only departed character to make an appearance in the premiere. Fans might catch a blink-and-you'll-miss-it flashback to season 1 featuring Liz Keen too.
Blacklisters! Blacklisters Everywhere!
It doesn't take a genius to guess that last season's missed catch Wujing (Chin Han), might be this season's Big Bad, especially as he broke out of prison armed with a list of Red's enemies, and vowing revenge at the end of season 9. Thanks, Marvin!
Wujing makes a credible and intimidating nemesis for Red in the opening hour, proving he has the means and the smarts to play and win at Red's game. That this accomplished assassin was also a season 1 villain gives his presence here a 'coming full circle' feel to proceedings.
However, Wujing is not the only familiar blacklister to make an appearance in the premiere episode (and expect more in the coming weeks). We get the feeling that Season 10 may be a victory lap of sorts for some of the show's most interesting characters, and perhaps a way to tie past events to the show's final clutch of episodes.
What makes their reappearances more worrying is Red's diminished capacity in the season opener. Raymond may have returned to New York, but as Dembe notes, he is not operating at peak efficiency. What is up with Red?
A New Ally Or Future Foe?
Anya Banerjee enters the mix this season as Siya Malik, Meera Malik's daughter. As you may recall Meera was a Task Force member who died back in Season 1 by having her throat slit by one of Berlin's men. Tom Keen famously betrayed Red by going to work for Berlin in a role that necessitated him spying on Liz. Tom later betrayed everyone in order to protect his then-wife.
We meet Siya in Season 10's opening episode and learn that she knows very little about how her mother died. As she gets to know the team, she discovers Harold, Donald and Dembe all thought of her as a friend. This new information spurs Siya to want to know more about the Task Force, and the circumstances of her mother's death.
We can't help but wonder if the passionate and determined Siya will prove to be a trusted ally, or if the long-wished-for details surrounding her mother's death will ultimately bring trouble and heartache to Harold's door?
Back on Track?
Bar the sudden reappearance of a very much alive Liz Keen popping in to reveal she is the puppet master behind Wujing's actions and prompting Red to admit he's secretly her mother before he dies tragically in her arms from a single unexpected gunshot wound nobody saw coming, while everyone (even Ressler) sobs massive tears (fyi, this is my fantasy series finale in which Tom Keen also returns handsomely from the dead because why not?), my expectations going in to reviewing this first handful of episodes of The Blacklist were … realistic.
However, I was pleasantly surprised by the tone and urgency of the premiere, and the manner in which it set the table for the season ahead. As mentioned above, Chin Han's Wujing makes for a formidable adversary with a clear agenda. Spader's Raymond 'Red' Reddington is just as engaging and endearing and mysterious as he ever was, and the stakes and the danger feel real. We may never get the answers the show set out to address almost 10 years ago, but look, we've come this far…You in?
The Blacklist returns for Season 10 on Sunday, February 26 (10:00PM – 11:00PM) on NBC.
Follow us @TVPulseMag for more breaking TV news this season.