Walker Independence makes its entry to the CW's Fall schedule on Oct. 6.
The series is one of only two new wholly original dramas airing on the Network his fall, with additional syndicated series making up the remainder of the slate. Both shows (the other being The Winchesters) are prequels based on previous CW successes — Walker and Supernatural — and each is executive produced by a Supernatural alum. Jared Padalecki, who stars in Walker (also returning Oct. 6) takes on EP duties alongside Anna Fricke on Walker Independence, while Jensen Ackles, Danneel Ackles, and former SPN writer Robbie Thompson helm The Winchesters.
As the Network prepares a seismic shift in its programming fare with an eye to turning a profit by 2025, it's easy to assume this is no coincidence. After all, a safe pair of hands and the opportunity to lure existing fans to a growing franchise seems to make a lot of sense. However viewers may be surprised by what they see when WI hits the air because behind the somewhat cynical dressing of a license expanding prequel beats the heart of a true Revenge Western in the grand tradition of The Power of the Dog, True Grit, and others. In fact, Walker Independence may just be the CW's most promising new series in years.
The story kicks off on a dusty wagon trail out west where we meet Mr and Mrs Collins, wealthy newlyweds from Boston, who have escaped political corruption and shady family dealings in the city in the hope of setting up a new life together in the booming frontier town of Independence, Texas.
Abby's husband is about to take over duties as town sheriff there, while Abby (Katherine McNamara of Shadowhunters and Arrow fame), is keen to continue life as a schoolteacher. However when a deliberate tragedy strikes, Abby finds herself widowed and cruelly left for dead in the wilderness.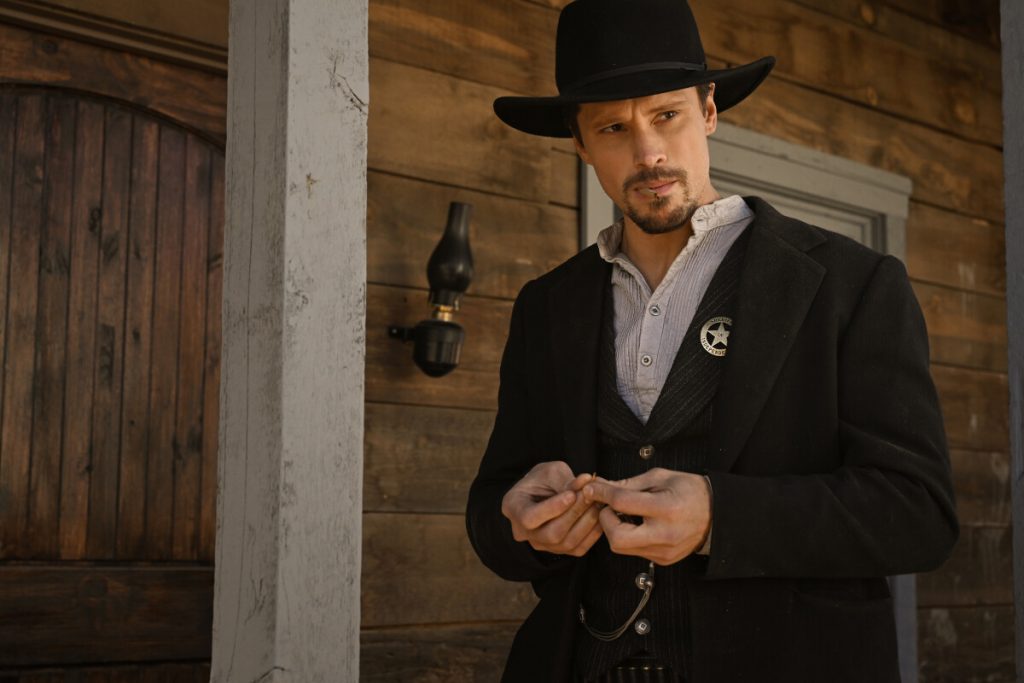 With a little help from Calian, a curious Apache tracker (Justin Johnson Cortez) Abby eventually makes it to Independence to report the crime, only to find her husband's shoes already filled by unscrupulous new sheriff Tom Davidson (Greg Hovanessian) who is not as he seems.
Now not knowing who to trust, Abby decides to remain incognito so that she can bring the man who murdered her husband to justice. When she quite literally bumps into former soldier and thief Hoyt Rawlins (Matt Barr) she impetuously finds a way to "persaude" Hoyt to murder the sheriff. When he refuses, she decides to go it alone. As Abby plots the ultimate revenge, she makes the acquaintance of some of the town's residents including Kate Carver (Katie Findlay), a burlesque dancer who asks too many questions about Abby's origins, Kai (Lawrence Kao), a quiet Chinese immigrant who runs a local restaurant and laundry and offers Abby a hot meal, and deputy sheriff Augustus (Philemon Chambers), the new sheriff's well-meaning right hand man.
Perhaps unsurprisingly, it's not too long before Abby and Hoyt once again find themselves in a precarious partnership as shady new details on Sheriff Davidson surface, drawing the unscrupulous conman back into her orbit. Together Abby, Hoyt and Calian plot to uncover a shocking truth that goes far beyond the identity of Abby's husband's killer.
"It's justice," Abby coolly reminds her newfound friends of their agenda. "One way or the other."
However, with Abby clearly preferring "the other" method, and acknowledging that no one in town will believe the shaky testimony of a stranger, an Apache who is not welcome in town, and an outlaw, this unlikely trio know the odds are firmly stacked against them.
And so a show is born.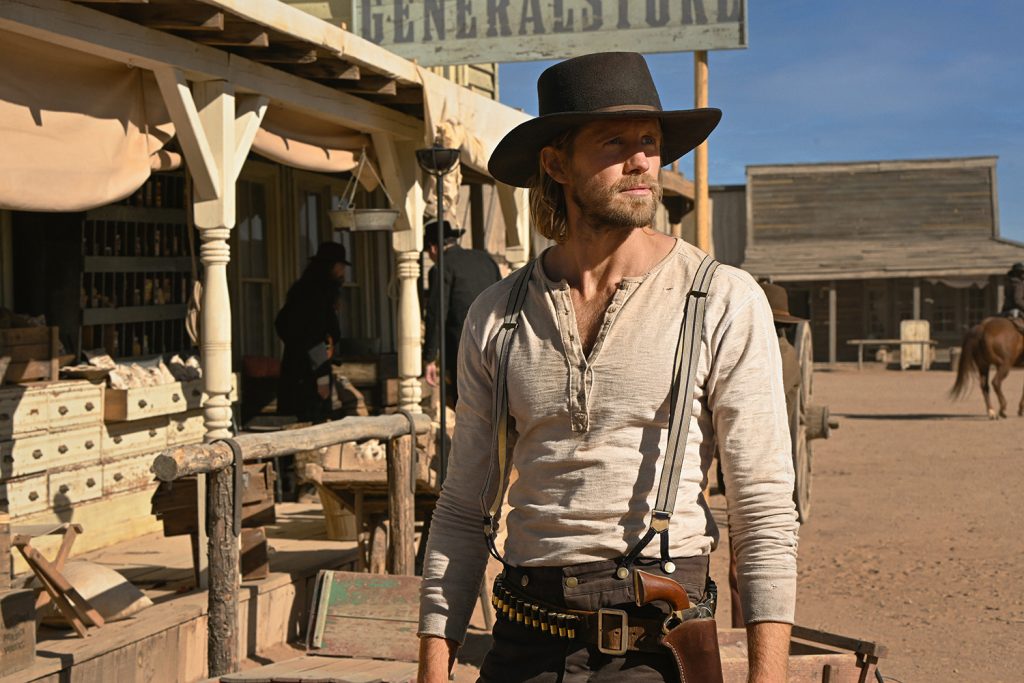 Filmed in Santa Fe, New Mexico, Walker Independence pays loving homage to the Western genre. Set dressing, horses, wagons, bustling dance halls and even the thick dusty desert air all play a role in making Independence look like a true 1800's frontier town. The characters too are drawn from familiar tropes — from the cheeky Burlesque dancer, to the beleaguered town Deputy who is in over his head, to the moustachioed black-hatted villain, and the thief with a heart of gold, head over heels in love with the shy daughter of a local Mexican rancher. Nevertheless, excellent casting breathes new life into familiar-feeling roles and Matt Barr is a particular standout as the free-wheeling, free-loving, bank-robbing, identity-nabbing, scene-stealing Hoyt Rawlins.
Katherine McNamara, no stranger to headlining a series, is similarly excellent as the determined but emotionally vulnerable Abby, the power of whose grief is set to change the fortunes of this bustling Texas town.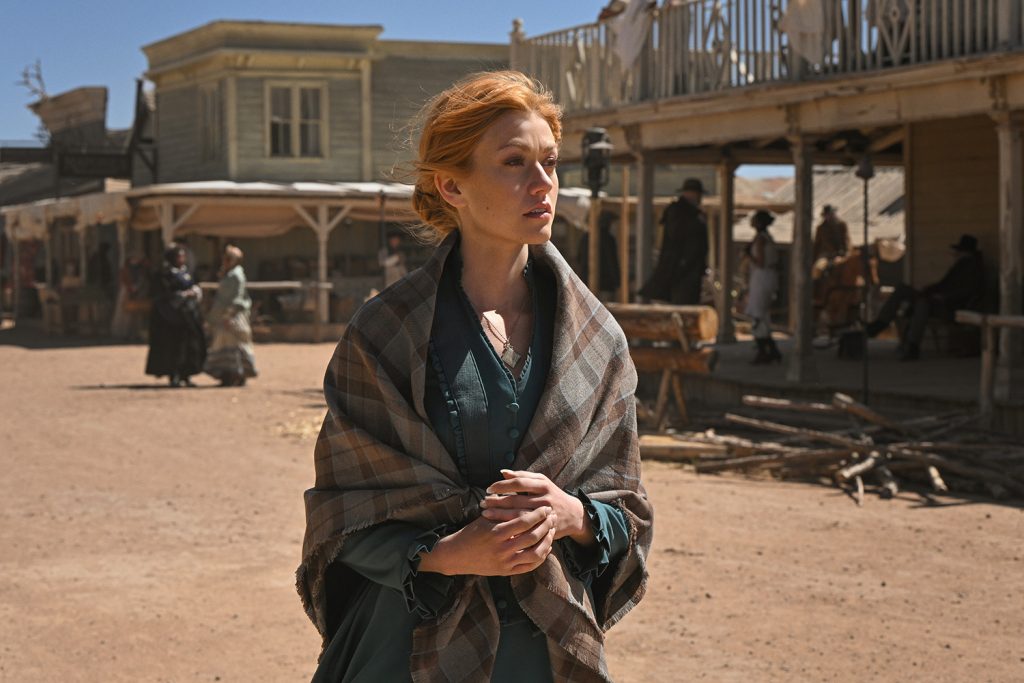 So while WI may strictly be a prequel to Walker, (One particular moment offers a stark callback to Walker's pilot episode. Plus Hoyt lives!), what truly elevates this new entry on the CW's Fall schedule is its old fashioned Western charm. Independence is a town waiting to be tamed, where life is cheap and law and order don't yet apply. There are decades to go before we will ever know the Walker family and other characters established in that far off universe. This world's larger than life setting, stakes, and characters feel more raw, more brash, and more vivid as a result. Coupled with a straightforward tale of revenge we can all get behind, WI surely deserves a slot on your viewing calendar this TV season.
The series is from CBS Studios with a teleplay written by Seamus Kevin Fahey from a story co-written by him and Anna Fricke. Both serve as executive producers along with Jared Padalecki, Dan Lin, Lindsey Liberatore, and Laura Terry. Larry Teng serves as executive producer and director on the pilot.
Walker Independence airs Thursday, October 6th at 9pm on the CW.
Follow us @TVPulseMag for more Walker Independence scoop this TV season.