La Brea is the second of NBC's new drama series (catch our review of "Ordinary Joe" here) scheduled to hit our screens this fall.
Set in Los Angeles, the series explores the aftermath of the creation of a giant sinkhole opening just outside of Hancock Park. Those who are not sucked, rather spectacularly, into the rapidly expanding abyss are left to wonder what happened to their friends and loved ones in the dramatic fallout of this catastrophic event.
However, all is not as it seems. We quickly learn that the victims are not dead, but have in fact been transported backwards in time to well… primeval Hollywood via a supernatural rift at the bottom of the sinkhole. And no, we're not talking the 1920's studio era here. Think saber-toothed cats, dire wolves, and all manner of flappy, snappy, carnivorous bird-creatures. Yes, that primeval Hollywood!
Only one man, Gavin Harris (Eoin Macken) seems to know what has actually happened, as mysterious visions of his very much alive soon-to-be-ex-wife and son (Natalie Zea as Eve Harris and Jack Martin as Josh Harris, respectively) plague both his waking and sleeping hours. Gavin knows his wife and son survived their pitch unto the unknown. He just doesn't know how he knows.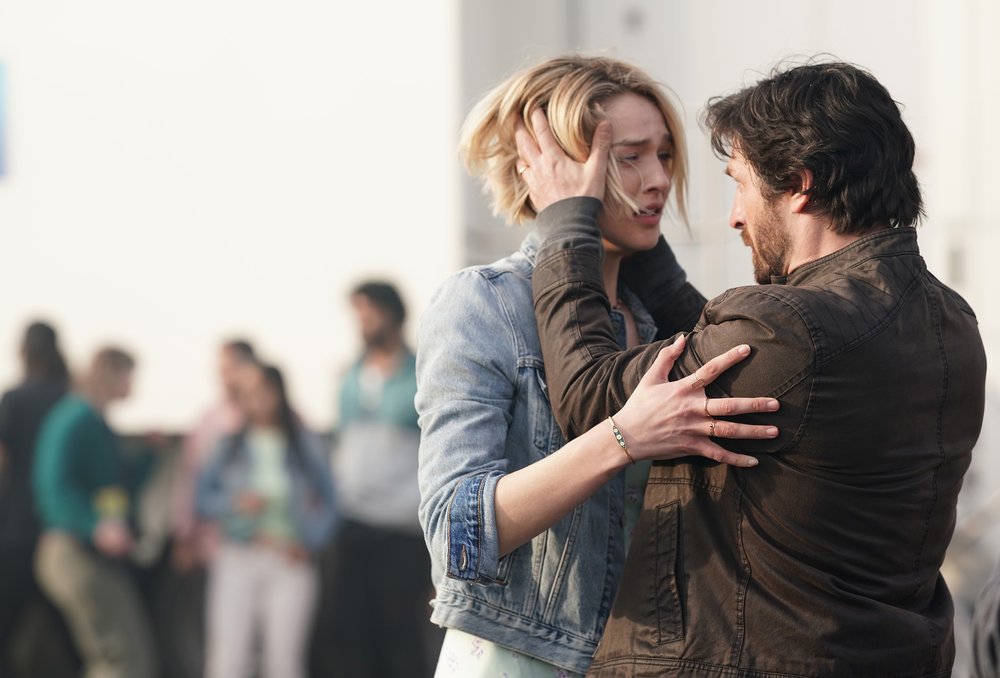 Why is it that Gavin can see his family on the other side of the sinkhole? Will he be able to prove to his daughter Izzy (Zyra Gorecki) that he is not crazy? And how can he convince the authorities he knows what is really going on, despite their best technology picking up nada on the other side of the mysterious breach?
Gavin doesn't have the answers, but he is determined to find them, and to reunite his fractured family. Meanwhile, Eve, now stranded in the past, is forced to reflect upon her previous shortcomings as a mother while facing down a series of imminent threats to her son's survival.
Happily, La Brea opens snappily, providing its audience with just the minimum of exposition before launching diligently into the type of special effects extravaganza we would expect from a show about a time-travelling sinkhole opening in the middle of West LA.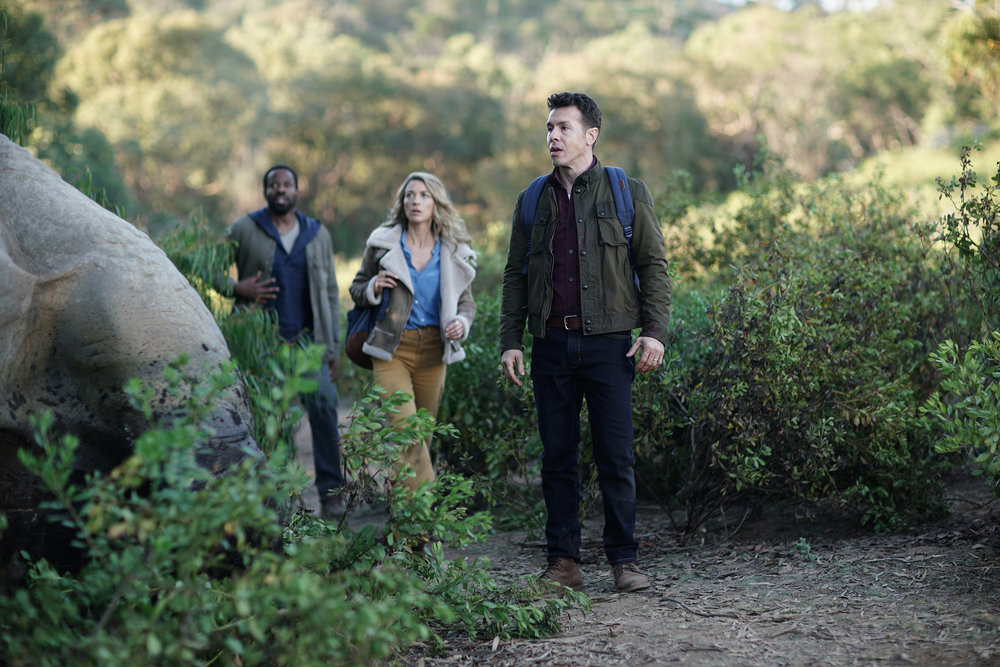 To boot, characters are many, and varied, promising multiple story arcs over episodes to come, and the central premise of a father desperately trying to reconnect with his family, while a mother attempts to atone for her past parental neglect, is both simple but effective. The Harris family may be fractured, but they are ordinary people thrown into extraordinary circumstances — a fine hook upon which to hang a TV show premise.
Additionally, set in Los Angeles but shot in regional Victoria, Australia, Eve, Josh and co.'s environment looks beautifully and suitably alien (unless you are watching the show from regional Victoria, in which case the landscape will look a lot like your back yard) adding to the show's overall mystique.
On the downside, for this reviewer at least, La Brea's pilot episode is reminiscent of another of NBC's drama series, Manifest, a show that chose to focus, to its detriment, on the human drama element over the bigger mystery of its premise. But what's wrong with a little human drama? It worked for another of NBC's shows, This is Us, didn't it? Well yes. While it cannot be argued that This is Us paved the way in recent years for stories about family, identity, and belonging, it did so by undercutting its tendency towards saccharine-sweetness with dense, clever dialogue set against a backdrop of mundane everyday life events. In comparison, Manifest's many weekly interpersonal moments floundered in a quicksand of melodrama and clunky dialogue, all while maddeningly keeping series arc reveals in its back pocket for another week. It's likely La Brea, cut from the same "speculative fiction" cloth, and a spiritual successor to Manifest in many ways, will follow this same format, based on what we've seen of the series to date.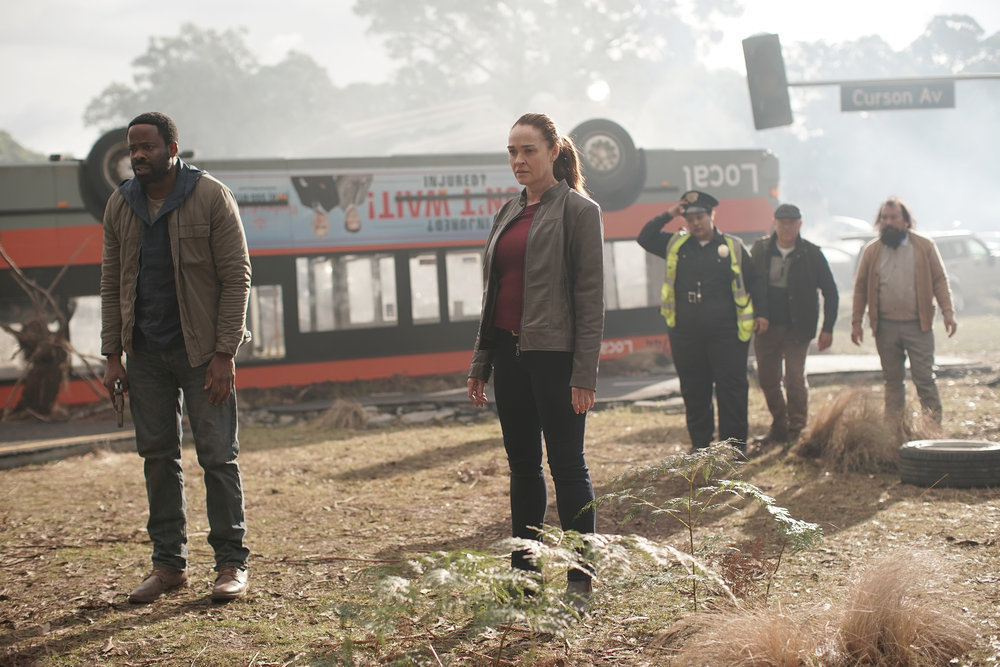 Those looking for a weekly family drama with a handful of CGI creatures thrown in for good measure will no doubt enjoy La Brea. But like the show's protagonist, Gavin Harris, you probably won't find the answers to the bigger questions you are looking for in the future.
La Brea's cast includes Natalie Zea, Eoin Macken, Jon Seda, Nicholas Gonzalez, Chiké Okonkwo, Karina Logue, Zyra Gorecki, Jack Martin, Veronica St. Clair, Rohan Mirchandaney, Lily Santiago, Josh McKenzie and Chloe De Los Santos.
Writer David Appelbaum executive produces with Avi Nir, Alon Shtruzman, Peter Traugott, Rachel Kaplan, Steven Lilien, Bryan Wynbrandt, Ken Woodruff, Arika Lisanne Mittman and Adam Davidson.
La Brea is produced by Universal Television, a division of Universal Studio Group, in association with Keshet Studios.
The season premiere kicks off with the airing of the pilot episode on Tuesday, Sept. 28 (9-10 p.m. ET) on NBC.
Follow us @TVPulse Magazine for more scoop this TV season.