The CW's latest foray into hero vs villains territory is Kung Fu, premiering April 7.
The show is described as 'inspired' by the original series created by Ed Spielman, back in 1972, but I suspect that if you are old enough to remember the David Carradine-starring weekly procedural, this new version may skew too young for your tastes.
The action kicks off when Nicky Shen (Olivia Liang), a young Chinese American woman, seeking to escape the perfectly constructed life her controlling mother has planned out for her, escapes to the peace and security of a Shaolin temple run exclusively by and for women. Nicky spends three happy years there, absorbing the simple TV wisdom of her mentor Pei-Ling (Vanessa Kai), and learning how to kick butt in pretty spectacular fashion.
However, after a traumatic event at the temple forces Nicky to return to the family, ex-boyfriend (refreshingly, the cast's only white character), and life she ditched earlier, she learns that picking up the pieces of her past will be no easy task, especially when she learns her parents owe 100K to a local Triad.
And if you are wondering how any of this sounds like a reboot of the 1970's TV series, then you should know before reading any further that Kung Fu 2021 has no real connection to its predecessor apart from its name. In fact, everything about the new series has producer Greg Berlanti stamped all over it from its slick action and fight sequences to its CW-attractive cast, to some of its less attractive qualities.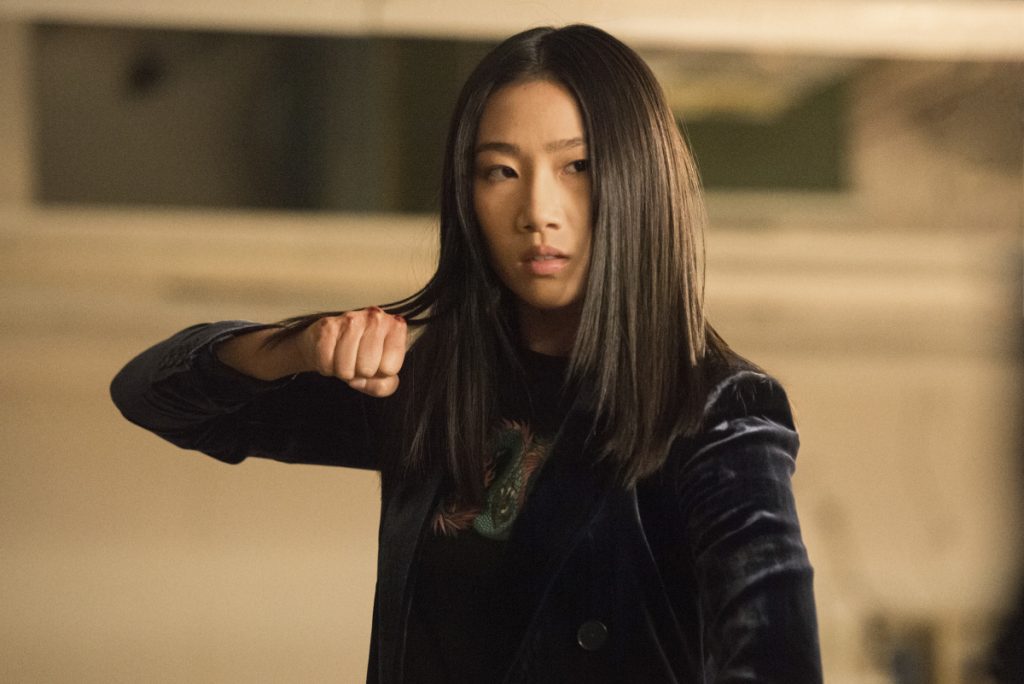 The real problem with Kung Fu is that there is nothing that truly sets it apart from The Flash or Black Lightning, or Arrow, or any of the CW's other superhero shows. At the core of every Greg Berlanti-produced superhero story is a gifted individual — in this case Nicky — who is surrounded by a well-intentioned team in possession of special gifts (you want a computer hacked? No problem! You need an ancient Chinese manuscript translated? Just give me 2 minutes!), who together as a team work to right wrongs, and pummel hoards of nameless bad guys in a series of well choreographed fight scenes, all while the Big Bad just manages to escape until the following week.
Leaving the CW superhero cookie cutter formula aside for now (because there are people who like the predictable familiarity of heroes taking down villains in prolonged action sequences — just ask anyone who sat through 4 hours of Justice League this week) there are issues with the pilot that go beyond its lack of originality. Although the episode sent for our review was tightly paced, well acted, and neatly packaged (and let's not forget those gorgeous fight scenes!), there were too many story-telling shortcuts and stitched-together plot developments to elevate the show into any kind of noteworthy territory.
RELATED | 5 Excellent TV Shows You're Not Even Watching
After introducing Nicky's sister Althea (Shannon Dang) as an airheaded fashionista obsessed with planning her own extravagant wedding, Althea suddenly turns into a hacker, capable of scraping data from a private bank account when the storyline calls for it. Meanwhile, Nicky's adorable little brother Ryan (Jon Prasida) is a medical student. We know this because he walks around the house in a lab coat and wears a pair of oversized spectacles, like a kid who refuses to be separated from his Doctor's Halloween costume a week into November.
Nicky's might-be new flame Henry (Eddie Liu) not only happens to be an expert in all things ancient and Chinese, but is also there whenever the audience needs a recap on events to date. No seriously, he actually says "To recap…" at one point, before launching into a blow by blow replay of events Nicky has just lived through and shouldn't therefore require. (I would have paid good money for a fourth wall-breaking glance at the audience from Nicky, a la Phoebe Waller-Bridge in this moment.)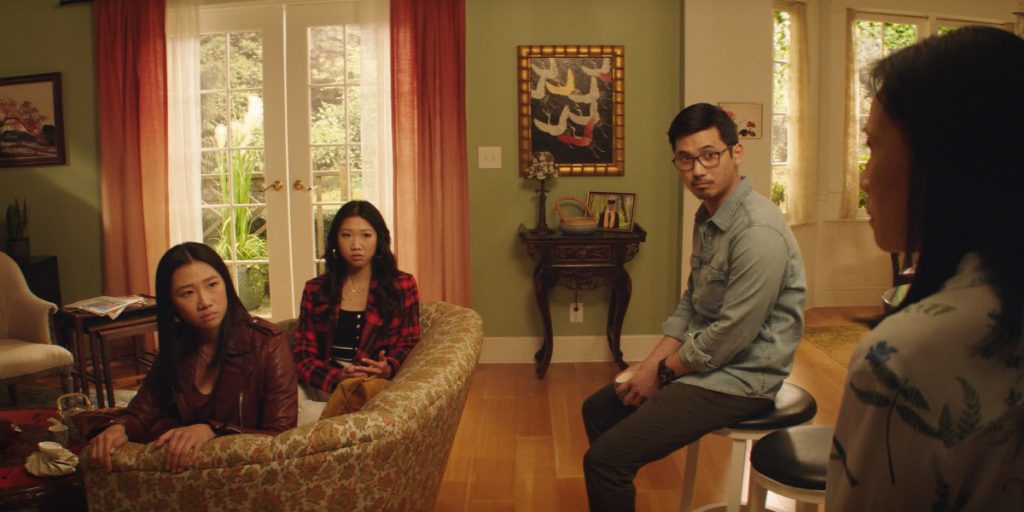 Ok, so apart from a predictable and well-worn formula, and some lazy character and plot developments, we should probably now take a moment to discuss the elephant in the room — Asian stereotyping — which puts in an occasional, playful, but unnecessary appearance throughout the pilot (as is so often the case with most stereotypes on TV lately. Hey, don't be offended. It's a joke!).
Despite the creative presence of Christina M. Kim (Lost, Blindspot), who not only wrote the pilot episode but also serves as executive producer/co-showrunner of the series, we still somehow managed to get a math whizz character, a cold and unemotional Asian mother character, a familial expectations sub-plot, a wise but stern mentor, and even a selection of elderly shop owners in Chinatown who nod and smile like they don't speak the same language as the other characters, even though they do. As Chinese-Americans living inside their own realities, none of these "traits" should need any exposition, and one can't help but feel they are only there to make the white portion of the audience feel their Asian expectations have been met. However, I can't escape the notion that if you are going to throw a handful of stereotypes into an episode, especially the pilot of a new show, you should at least work to subvert them in some way. But Kung Fu puts as much effort into that task as it does its character work, and its superhero formula, already discussed above.
It has been a horrendous year for the Asian community in the United States, too many of whom have found themselves victims of extreme racism, violence and prejudice, thanks in part to the efforts of the country's previous administration and its fans, so perhaps we should cut the CW some slack for crafting a show with an all Asian cast. If ever there was a time for such a move, it's definitely now. (Mind you, this is the same Network that last week presented a grotesque money-grubbing "Leprechaun" character whose appearance was accompanied by Irish fiddle music and a character's quip about "the luck of the Irish" so maybe the Network still has some kinks to iron out on that front?)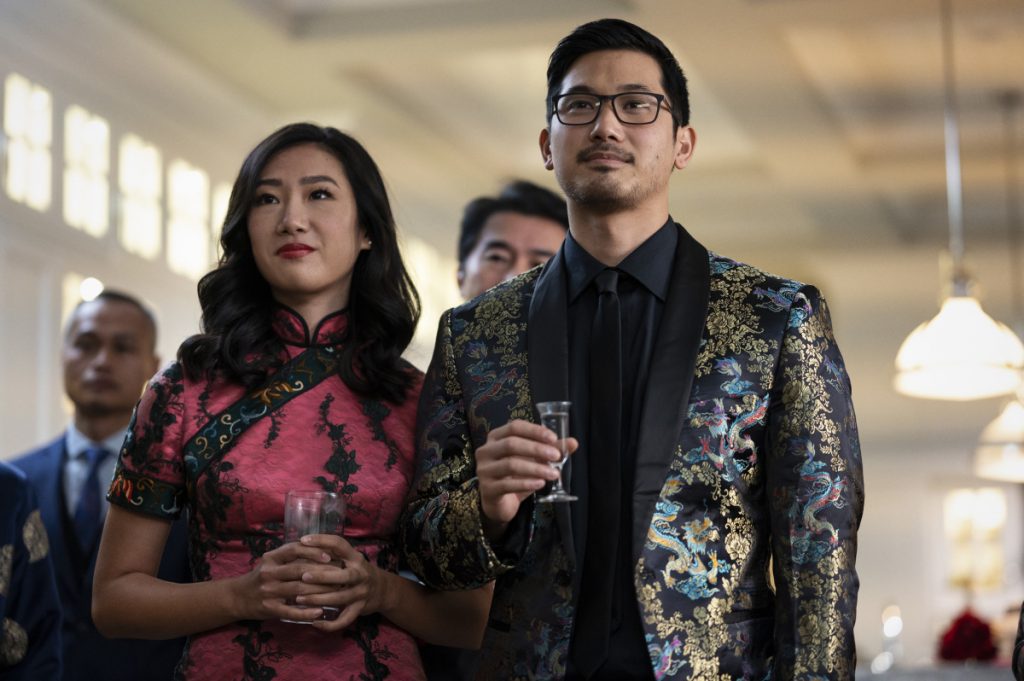 According to biographer Matthew E. Polly, Bruce Lee originally auditioned for the part of the main character, Kwai Chang Caine, in the 1972 version of Kung Fu, but the studio was reluctant to hire a Chinese actor. It is alleged that an unnamed ABC executive commented at the time "You can't make a star out of a five-foot-six Chinese actor." The part eventually went to non-Asian David Carradine.
In terms of representation, Kung Fu 2021 has clearly succeeded where its predecessor did not. It's taken decades, but we finally have a likeable, non-fetishised, female, Asian superhero gracing our TV screens, in a show with a full cast of Asian actors, and a token white dude. However, it's not enough. Not yet. Like America herself, the series needs to show its characters a little more love, and demonstrate a determination to look beyond formula, cliches, and stereotypes for that which truly connects us, as TV viewers, as superhero fans, but mostly as human beings.
Kung Fu stars Olivia Liang as Nicky Shen, Kheng Hua Tan as Mei-Li Shen, Shannon Dang as Althea Shen, Eddie Liu as Henry Yan, Gavin Stenhouse as Evan Hartley, Vanessa Kai as Pei-Ling Zhang, Tony Chung as Dennis Soong and Tzi Ma as Jin Shen.
Christina M. Kim serves as executive producer/co-showrunner of the series with Robert Berens.
Greg Berlanti, Sarah Schechter, Martin Gero and David Madden also serve as executive producers. The series is is produced by Berlanti Productions and Quinn's House in association with Warner Bros.
Kung Fu premieres Wednesday, April 7 at 8:00 pm ET on The CW.
TV Pulse Grade: C+