This review originally appeared in our Sister Publication The Bulldog Edition
With an on-the-nose name like "Krapopolis," one might be forgiven for thinking that FOX's latest animated feature, a comedy set in ancient Greece, is aimed squarely at a more lowbrow audience. However the series, created by Rick and Morty and Community's Dan Harmon, is thankfully a little more nuanced and a lot more entertaining than its toilet humor title suggests.
Krapopolis makes its debut on FOX with a 2 episode feature (or preview event if you want to be fancy about it) on Sunday, Sept. 24 just after the NFL doubleheader, so its bound to attract the initial attention of even those who are even only vaguely interested, or can't be bothered to pull themselves up from the couch. A pity, because Krapopolis only truly finds its storytelling feet after 3 episodes or so.
The series focuses on the ultimate blended family of Gods, Goddesses, and their human, godlike, and monster offspring. This dysfunctional family comprises Mom Deleria, the so called Goddess of self-destruction and questionable choices. Deliria is beautiful, wrathful, and petty, and will do almost anything if it means she'll get more human worshipers out of it. She's played with aplomb (and occasional song) by Ted Lasso star Hannah Waddingham.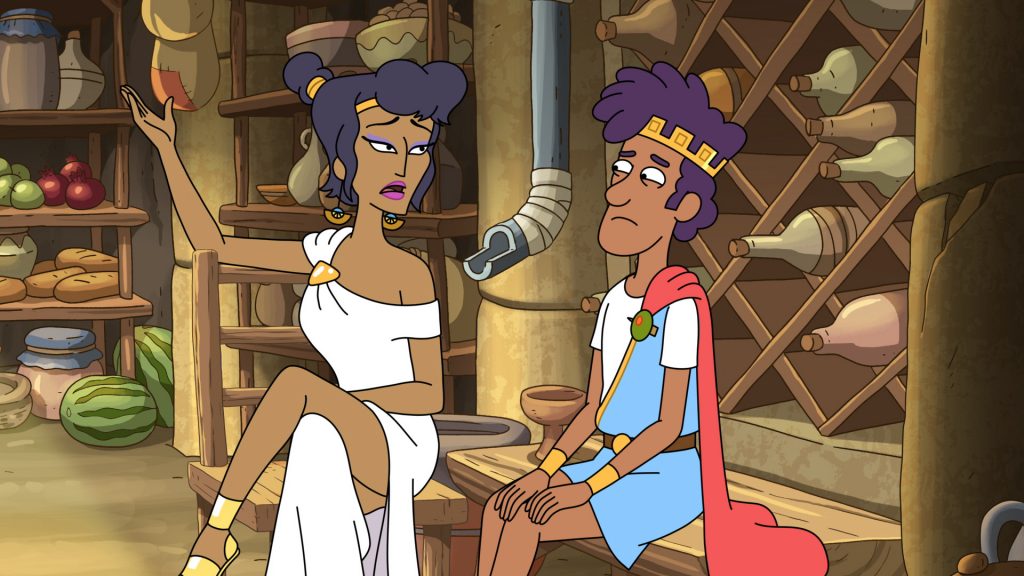 Deleria is married to Shlub, a mantitaur (half centaur [horse + human], half manticore [lion + human + scorpion]), which is as confusing to look at as it sounds. Schlub is the self-described life of the orgy — a true pleasure seeker who thinks that everyone should just chill out and, if they need him for anything, he'll be down at the bar. He couldn't be voiced better by anyone than Matt Berry of What We Do in the Shadows fame. Thankfully, he is.
Pam Murphy (Mapleworth Murders) voices Stupendous, daughter of Deliria and a cyclops, while Duncan Trussell (The Midnight Gospel) Trussell plays Hippocampus, offspring of Shlub and a mermaid, a biological hot mess with a keen intellect.
At the centre of proceedings is Tyrannis (Richard Ayoade of The IT Crowd), Deleria's and Shlub's mortal human son, and the ruler of the burgeoning city of Krapopolis. Tryannis spends his time and efforts trying to foster the birth of civilisation in mankind's first city. However his attempts at agriculture, democracy, commerce, sport, and even the domestication of wolves ("Man's worst enemy!") are thwarted by the capricious nature of the Gods, his parents' incessant meddling, humanity's desire for war, and often, his own hubris.
Tyrannis could have been played as an altogether more tyranical character befitting of his name, but Ayoade gives us a thoughtful and noble interpretation that makes the inevitable lessons learned from his failures feel like bitter-sweet successes.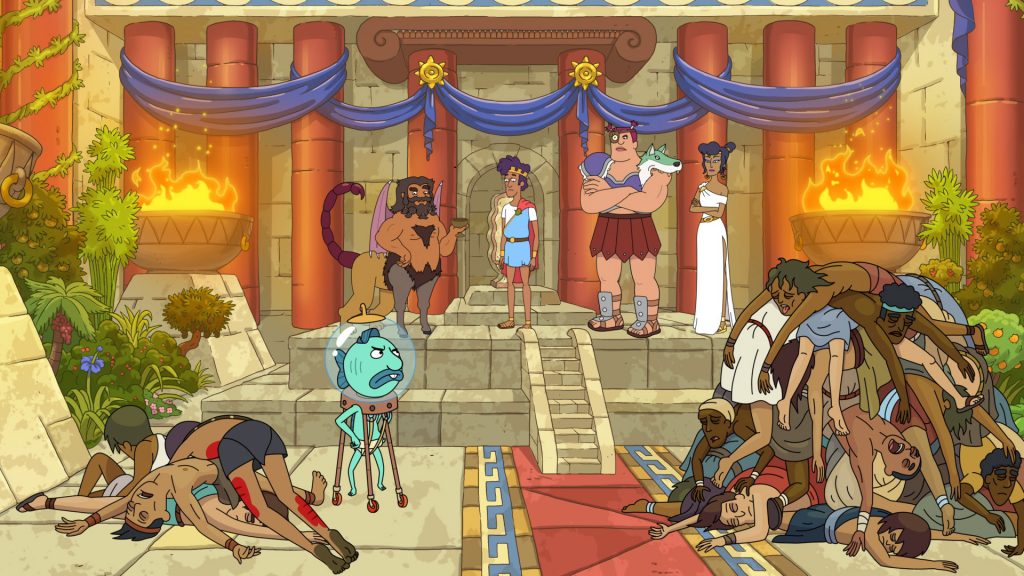 With cameos from the other Gods of Olympus and a host of larger than life earthly characters (Keith David as barbarian clan leader Asskill recurs, along with Michael Urie as Hermes), a fine voice cast, and predictable outcomes taking unpredictable routes (while searching for a killer, for example, Hippocampus inadvertently creates forensic science) Krapopolus manages to create lightning in FOX's animation bottle: subtle and at times subversive humor, unique characters, a superb cast, and at its heart a familiar family dynamic that illustrates the simple idea that when we care about each other we can truly make the world a better place.
Krapopolis may not be as "out there" as Rick and Morty, or as accessible and familiar as The Simpsons, but it can hold its head high as a worthy contender on FOX's Sunday primetime roster this year.
After its double episode debut on Sunday, Sept. 24. Krapopolis makes its regular scheduled appearance Sundays from Oct. 1 at 8:30 PM.