By Jay Conaty
Last night's CSI: Vegas treated fans to a murder at … well, a murder ranch in "In the Blood." We also saw Josh bond with a lost show horse, while Gil and Sara debated how much of their hand to show in the Hodges case. Meanwhile, Hodges almost lost it by demanding to confront Anson Wix personally, and Maxine discovered she had been played in the final surprising moments of the night.
Let's dig in.
The action kicked off with the discovery of a blood soaked thoroughbred strolling down the Vegas strip. Hardly anyone bats an eye. Vegas has seen it all over the years.
Josh and Allie are called in to glean what they can, but Josh displays an affinity for the distressed animal, much to the delight of Allie who spends the remainder of the episode teasing his horsemanship. The joke is on Allie when she and Josh are later called to investigate an area of open wilderness on — you guessed it — horseback, as they search for the horse's rider. And while Josh is in his element plodding the trail, Allie is decidedly less so.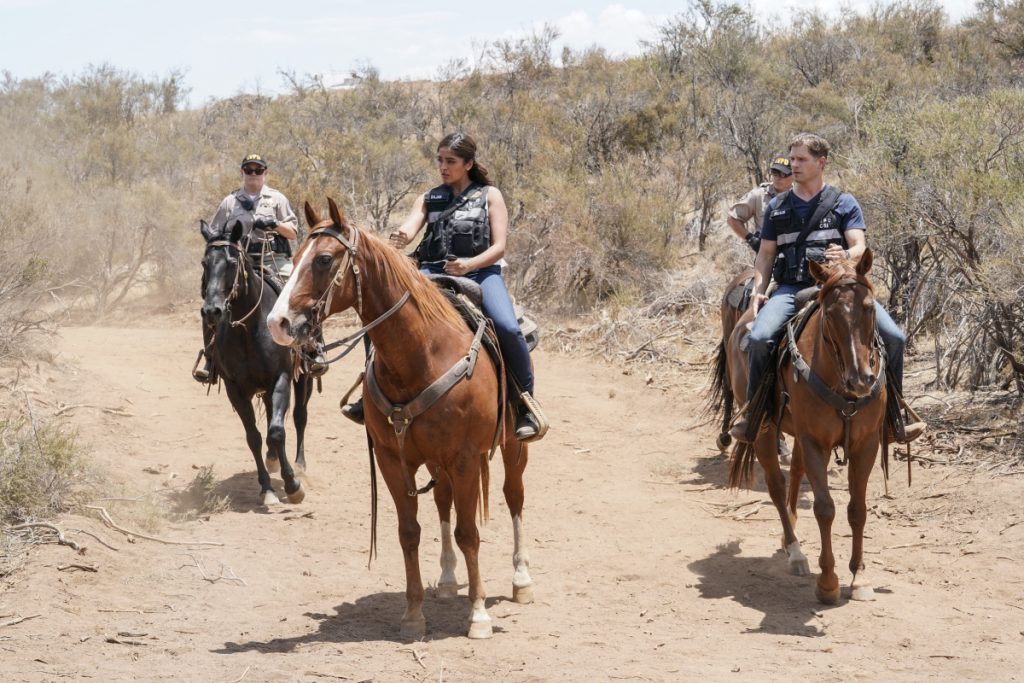 The pair's investigation leads them to a "Murder Ranch" for disturbed teens with homicide records who are seeking a fresh start. It also leads them to the ranch's boss and our murder victim, Emery Hollis, a benign figure who saw the good in everyone. So says Hollis' distraught son, Corey. Why would anyone want to kill him? Apart from all of the teenage sociopaths in his care, that is?
While Josh and Allie search for clues, and take their findings back to the lab, Gil and Sara catch Hodges up on their own findings. Hodges is shocked and disturbed. Anson Wix often quizzed him on his cases, Hodges reveals. They even frequented the same taco truck over lunch. It looks like Wix had been planning his move for quite some time, even shaking Hodges down for crucial details long before he took the class action lawsuit on behalf of those the team helped put away over the years. If we've been looking for a crafty Uber villain with zero compunctions, we seem to have found him in Anson Wix.
Or have we?
This show (and CSI before it) expertly subverts our expectations weekly, and this hour of TV is no different. We get to see Anson at home in a domestic scene. He's cooking breakfast for his sister, Anna, who we learn has Huntington's Disease. Anson presents her with a carefully made meal, and diligently prepares her daily medications. When she asks him about a red spot on the shoulder of his shirt he passes it off as hot sauce. We later see that it's the still bleeding wound from the exploding grenade at Kline's house. What does Anna know about her little brother's activities? Is this all for her somehow? Might there be a glimmer of humanity in our villain? CSI: Vegas lets us sit on those questions awhile while we return to Gil and Sara.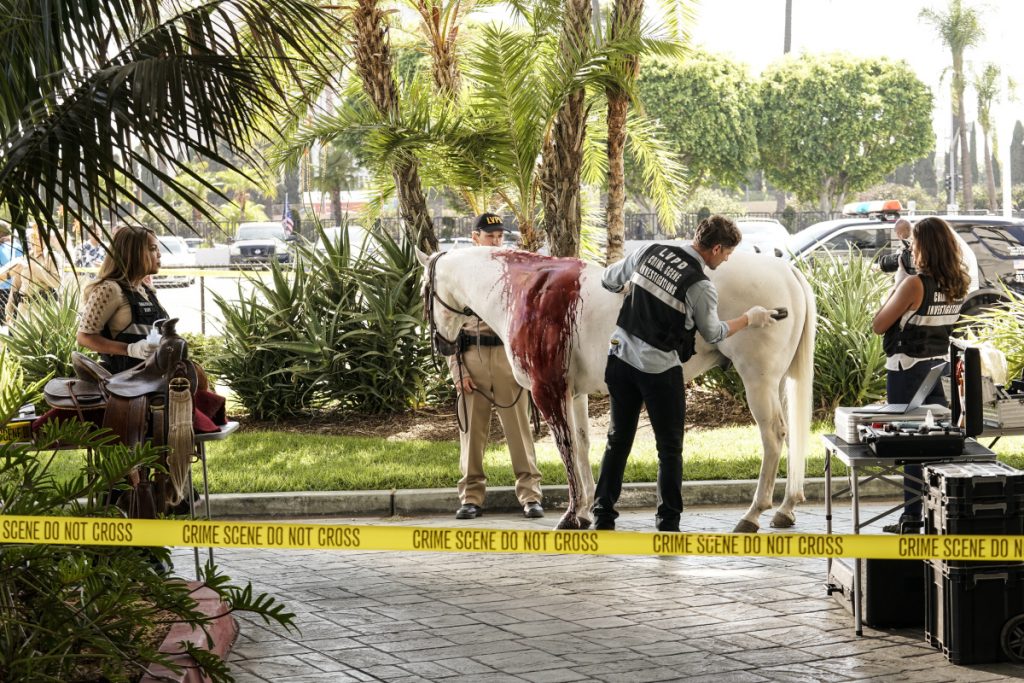 Our CSI sleuths hear that Hodges has gone AWOL, which is a very bad thing considering he's wearing an ankle bracelet. Sara slips out on a hunch, and finds him at the lunch stop he and Wix used to frequent. Hodges tells Sara he wants to confront Wix openly. Sara tells him why that's a very bad idea. A bottle of Luminol and some dandruff flakes aren't enough to convict Wix. They need him to feel confident. They hope he'll slip up somehow. If he knows the lab is on to him, he may well have the means to shut their investigation down completely. Grudgingly, Hodges agrees with Sara's angle on things. She passes off his detour to the cops who have come to arrest him as a pregnancy craving from his wife for the truck's food. They believe her. Phew.
However, when Sara and Gil take stock of Hodges' actions they realize his rash lunchtime antics were more than likely enough to put Wix on alert anyway. So when a fiber of wool found at the Kline murder scene points to Wix's knitting-obsessed sister Anna, Gil reckons now is probably the least worst time to pay her a visit to see what she knows about her brother.
Any doubts over sweet Anna's innocence are quickly dispelled. Gil learns that Anna despises the CSI's and those limelight-stealing techs, who find themselves the centre of attention in every newspaper headline. Poor talented Anson has been left unnoticed on the sidelines in almost every case he has taken, while people like smug Hodges get all the column inches. It's enough to make a brother/sister duo plan to take down the whole lab!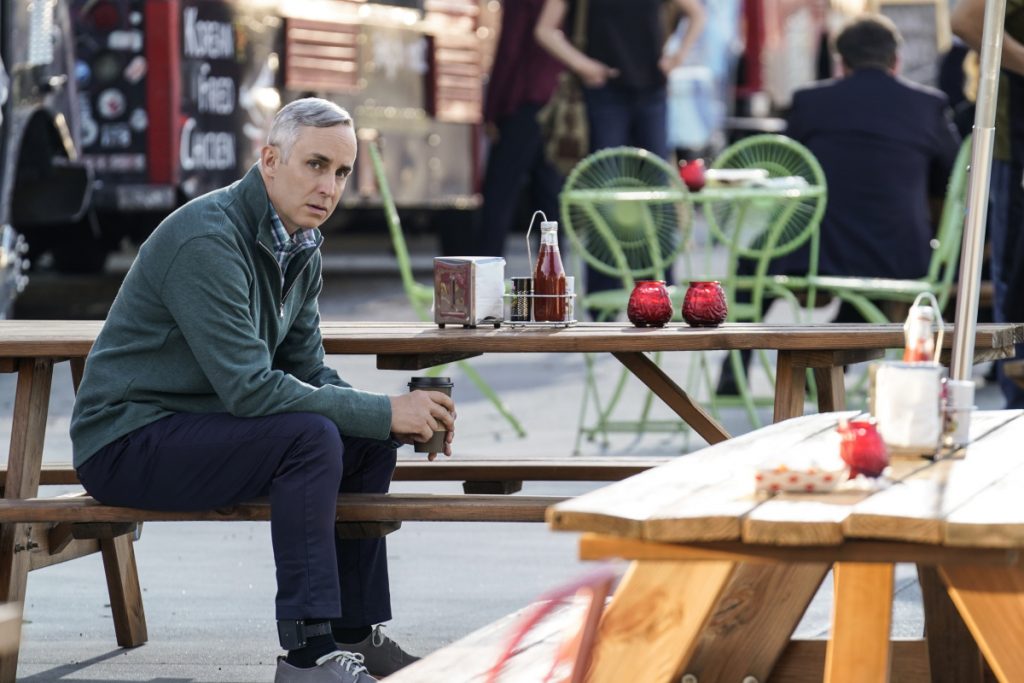 Gil is uncharacteristically blindsided by Anna's words. However, he takes careful note when she taunts him to search the entire house if he likes, as he won't find anything. Back at the lab, while Gil takes his land sickness meds, Sara works on a theory that Wix is working his entire operation offsite someplace. Find the site, find the evidence.
Speaking of evidence, Josh is putting in overtime this week trying to discover whodunnit. Cut to Josh beating a rubber dummy with a series of spades, shovels and other farm implements as he attempts to match his victim's injuries to a murder weapon. With Allie's help, Josh determines that kindly ranch boss Emery Hollis was first shot while on horseback, and then savagely beaten.
At first the method seems eerily similar to a specific kid at the ranch who beat his own parents to death with his fists. However, the blood-spatter tells us another story. Hollis was attacked by someone who was missing a finger. Turns out, it's Hollis' son Corey. A little digging reveals Corey's brother supposedly killed himself a few years back. What if he was murdered by his brother instead? Is that what prompted Emery to kickstart his ranch for troubled teens? Was he hoping to quietly rehabilitate his son among others just like him? DNA evidence on a shovel reveal the answer to all of the above is a resounding yes.
It's all over bar a couple of developments. Remember the thoroughbred who sparked the whole murder investigation? Well, Josh has taken such a shine to him that he empties his bank account to buy the animal. Aw!
In a not so Aw! closing moment, Maxine is visited by under sheriff Wyatt and two security guards while working late at her desk. (Maxine's had quite the day of it trying not to persuade her son to take a job as a host in a casino before finally giving her blessing to the idea.) Wyatt delivers the news: Max has been suspended and demoted, effective immediately.
But who made such a thing happen at such a crucial time in the lab's investigation?
You guessed it. It was Anson Wix.
CSI: Vegas continues Wednesdays (10:00-11:00 PM, ET/PT) on CBS.
Follow @TVPulse Magazine for more CSI: Vegas scoop.