For the most part, when actors leave a TV show, their characters do too.
Generally, if the writers are sensitive to fans of the soon-to-be-offed character, an episode or maybe even two (hello grief storyline!) will be devoted to a proper sendoff. Supporting characters will get the opportunity to weep. There may even be a funeral. The writing team will be unable to resist a gut-wrenching farewell monologue from whichever actor is in possession of the most gravitas, or the longest IMDB history.
Such was the case at the start of this year's TV season when Emily VanCamp departed FOX's medical drama The Resident. VanCamp's Nurse Practitioner Nicolette Nevin was then summarily executed by the show's writers. You might be interested to know that not only was she given a hero's sendoff, but her donated organs went on to save the lives of many. We watched as Nic's tearful husband Conrad stood, their young child in his arms, watching a chopper fly his wife's kidneys to parts unknown while the tiny tot pointed at the sky, and the ADR people made her say "Mama" for the last time.
Now that's a goodbye.
But even grief has a use-by-date. Fast forward a few weeks, and Nic's demise is a plot line no longer. In time, although fans may feel uncomfortable about it right now, Conrad will fall in love again because that's the nature of the show: Hot caring doctors and nurses struggling with their relationships and saving lives, dammit! Who among us really wants to tune in week after week as characters mourn the loss of someone who is never coming back? Moods, and ratings, and our appetite for sadness would forbid it.
In The Blacklist's Season 8 finale, soon after NBC let it be known series co-star Megan Boone was leaving the show, her character Elizabeth Keen was brutally and fatally gunned down on a street corner, which would have been shocking had we not known it was coming. In hindsight, the entirely of Season 8 seemed geared to draw Elizabeth towards that irreversible moment. The dissolution of her long-standing relationship with Raymond Reddington (James Spader), her decision to burn bridges with her FBI teammates, her turn to the dark side, and her unwavering determination to kill Reddington all signalled Liz's end long before that fateful gunshot on a darkened street corner.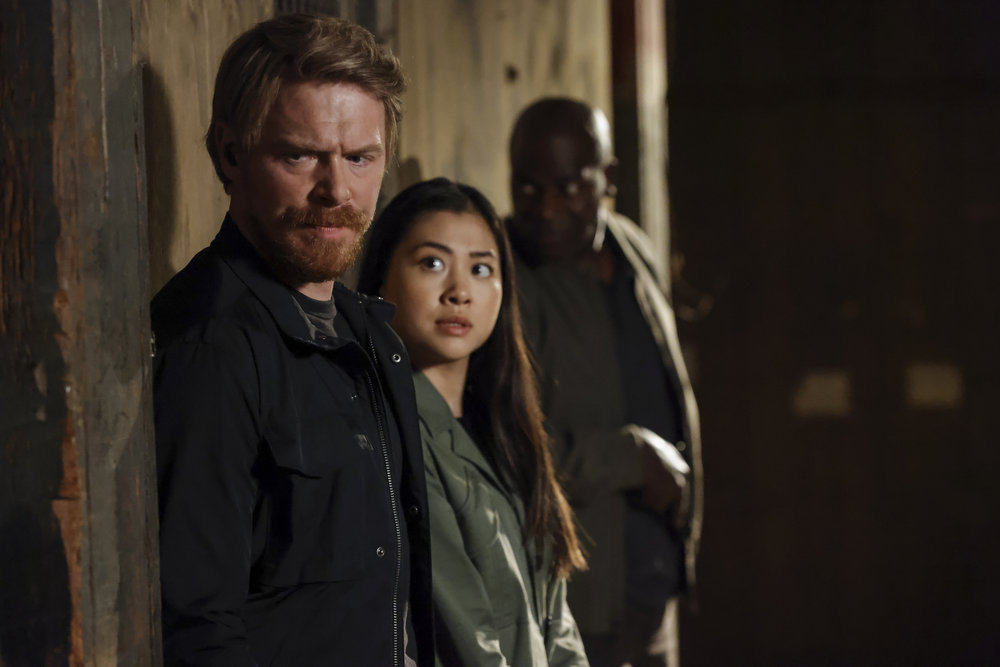 Like Nic Nevin, Liz Keen is not coming back. Both shows employed the oft-used "time-jump" device at the start of their respective seasons this year to put some space between the characters and the tragic event.
However, unlike The Resident, The Blacklist has chosen to express the darker side of grief as a means of dealing with Liz's demise. Red and Dembe, two seemingly inseparable souls, have gone their separate ways, with Dembe now working, maybe improbably, for the FBI, and Red in episode 1, seen as powerless, ill, and diminished, and seeking alternative medical therpaies to prolong his empty life. His now completely bald head feels like a metaphor for fragility and illness and death. Or who knows? I might just be reaching.
And while Park and Aram appear, on the surface at least, to have found a better, happier existence outside of the Task Force (Park is married and Aram is trying to get a startup off the ground when we meet them first in the Season 9 premiere), it's clear their respective talents are wasted in their sedate and ordinary lives.
Meanwhile, Donald Ressler, car mechanic, is perhaps the most disintegrated of the group, having traded his neat FBI suits and groomed hair for steel toe cap boots, jeans, an aversion to personal grooming, and an attitude to match. In episode 2, Donald can't bring himself to set foot in Liz' old FBI office, and we're not entirely sure he isn't going to kill Red if the opportunity should present itself. Simply put, the light has gone out in Donald's eyes.
Only Cooper seems the most like himself. But maybe that's because he's raising Liz's child, Agnes? Among the group, he is the only one whose life has expanded since that fateful night, despite putting in some soulless appearances as a talking head on local TV, and being treated as persona non grata by Cynthia Panabaker.
Really, how could you, Cynthia? After all we've been through together?
So while The Blacklist could have gone down the teary send-off route (although most of us might draw the line at waving goodbye to Elizabeth's internal organs), it is perhaps more fitting that it chooses to wallow in the darkness of despair and anger and vengeful machinations instead. Those darker spaces are most faithful to the DNA of the show, after all. Having experienced the death of my own father in the last year, those darkly morose moments, which seem to perversely insist on just squatting silently in the background of almost every scene, feel comforting and somehow more authentic.
Bring it, Blacklist! I feel you.
Of course, what can't be fixed by the manner in which the show is choosing to honor Liz is the fact there is no Liz this season. Without Liz (regardless of how fans feel about her character's choices in the last season) there is a palpable sense of loss: The loss of the show's co-lead.
The Blacklist thrived, especially in earlier seasons, with Liz as the perfect foil for Red. The show spun a series of complementary but opposing forces that kept fans intrigued: naivety vs. experience, scruples vs. the unspeakable, family vs. duty and so much more. We desperately wanted Liz to learn and to grow and to finally know. And we wanted Red to come in from the cold, and to be loved, and to be finally known.
Those elements were as much a part of the DNA of the show as its inherent darkness. Without Liz — the idealist, the seeker of truth — there isn't a whole lot of Yin to the show's Yang. Park, who has always struggled with tendencies towards violence, and Ressler who is shown to be in a dark place this season, only add to that sense of heaviness.
What is to be done then? At present, The Blacklist is leaning into its last remaining hopeful character — Aram Mojtabai — for weekly welcome breaths of fresh air. But with Amir Arison's Aram firmly established in 'nervous tech nerd with a heart of gold' territory, there may be a lot of uphill writing to be done before we see Aram in a more expanded role any time soon. We've also seen Red observing Agnes at (seemingly never ending) football practice. (Is Red going to approach the FBI in a few years and demand to exchange Blacklisters on condition he only deals with Agnes Keen? Please don't do that, show writers!) However here, and particularly here, fans may feel they deserve unambiguous answers about Red's identity (alluded to at the end of Season 8 but never actually stated as lines in the mouths of any of the show's cast) before embracing Agnes as anything more to Red than Liz' daughter.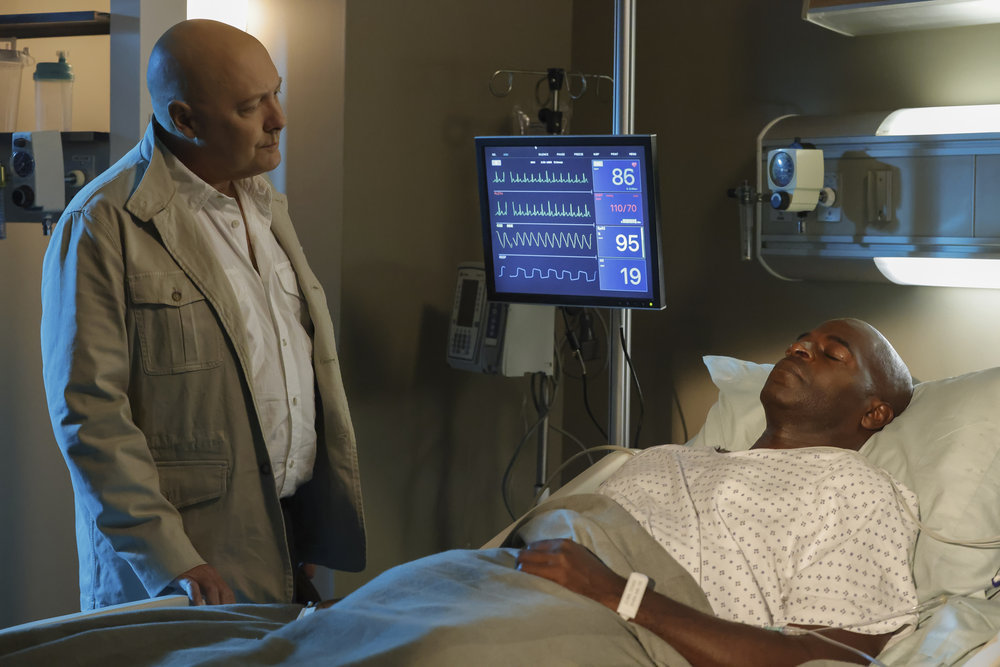 In reality though, Liz's death has left a vacuum that most likely will never be filled by guest stars or existing characters taking on new dimensions. Like bereaved relatives bottling up the loss of a loved one, one sure step in the healing process might be to finally open up about things? For 9 seasons, The Blacklist has kept Red's identity — and by extension Liz's destiny — so close to the vest as to slowly suffocate entire portions of the show's fanbase. In short, if the show has been shyly working its way towards a Trans storyline for 9 seasons, then a lot of us missed the point. If the show has been diligently working some other angle, a lot of us missed that point too. But why is that? We were simply too dumb to get all the nuance? Or is it perhaps because the show wanted to have its edgy cake and eat it too? Whatever the reason, this new season presents what might be a last real opportunity to discuss the nearly departed.
If we are indeed tuning in to the last season(s) of the show, it's time to pony up, writers. Say anything. But say something. This season is a eulogy, and you're being nudged in the ribs. Get up there and be meaningful. And if you can't be meaningful, at least be memorable.
There is no doubt The Blacklist could continue to enthral and horrify us with Blacklisters for many seasons to come. And with Red returning to power in the show's most recent episode, anything is technically possible … if you don't squint too hard at ratings and Network licensing fees and all those other ugly elements that dictate whether a show gets the axe or not.
Just like the characters the show has birthed, when the writing is one day suddenly and sadly on the wall, we can only hope fans are not left brooding in the dark as they struggle to find meaning in its demise.
The Blacklist airs Thursdays, (8-9 p.m. ET) on NBC.
Follow @TVPulse Magazine for more Blacklist scoop this season.